For our first trip abroad, after Covid's continuous quarantines and with the new member of the family now, we chose Barcelona. We were looking forward to this trip and we were sure that we would have a great time. And we did have a great time!
Barcelona, the capital of Catalonia, is a seaside city with a vibrant rhythm, unparalleled beauty and the carefree lifestyle of sunny cities to match. Gorgeous landscapes, breathtaking architecture and major attractions make it the perfect destination for your next trip. Of course, the temperate Mediterranean climate and culture make it one of Europe's most charming cities.
General Information
Barcelona is the 2nd largest city in Spain and the capital of the Catalan region.
It is the 2nd most important city in Spain in terms of population, tourism and economy after Madrid.
Population of about 1.6 million within the city.
A city with a rich cultural heritage, where Salvador Dali, Juan Miró, Antoni Gaudí and for a time Pablo Picasso, among others, lived.
Their official language is Spanish. In the tourist areas they speak English, and we learned that a few words in Catalan will make you more welcome in this welcoming city.
Like the rest of the European Union, Spain uses the Euro for transactions.
Information for travel documents you'll find here.
Transportation
Transfer from airport
Mini Van: At the airport exits you will find several mini vans, or you may be approached by their drivers. As we were 2 families with 2 strollers, 2 suitcases and 5 pieces of hand luggage needed something with enough room. That's why we chose this mode of transportation among the others. The price was fixed, at 60€ all together. We also kept his mobile phone to take us back to the airport on the last day.
Later on, having taken a better look at the platforms we saw that we could have booked the transfer before the trip and had the driver wait for us at the arrivals, instead of searching the exits loaded with luggage. We also saw that prices vary depending on the vehicle, comfort and number of passengers. Prices ranged from 25€ as the most economical to 90€ for more luxury transport. You can book your transfer before your trip here.
Taxi: As with the minivans, taxis are available at the airport exit where you can find the drivers and agree on the route and cost. They are easily spotted in Terminal 1 and 2, and are queued up. As you will see, in the rest of the city. Their distinctive colour is yellow and black.
See the hotel we chose for our stay here.
There are no fix prices for transportation to and from the airport, as there are in other countries, and the price is by arrangement with the driver. More specifically, the minimum price for the taxi service from the airport is 20€ (including all additional charges, such as airport entry and exit fees of 3.10€). So, the cost is about 30 to 35€ and the transfer time is about 35 minutes.
Metro: Barcelona Airport has two terminal exits T1 and T2 which are connected to the city's underground transport network with the 9 L9 line. It is very easy to spot the stops as you exit the exits as there are several signs.
What do you need to know before taking the metro to get to the city?! The L9 line does not go straight to the city centre and you need to change lines. For example, it is necessary to change at the Torrassa stop and take the red line that reaches the Universitat and Catalonia square stops. Or else change at the Collbanc stop for the blue line that reaches the Provença, Diagonal and Sagrada Familia stops.
The metro ticket to and from the airport is easily issued at the automatic machines located before the station entrances and costs 4,50€. For those with bulky luggage, they can take the elevator instead of struggling up the stairs. The journey time is approximately 30 minutes and the transit frequency is 30 minutes.
Bus: Another option is to take the bus to the centre. You can get to Plaça Espanya by bus 46, which runs from both T1 and T2 terminals. It is a very economical option to get to Barcelona city centre from the airport.
Just be aware that the 46 bus stop is located at the exit of terminal T1. There are two 46 bus stops at the T2 terminal and they are located at the exit of terminals T2b and T2c. TMB -Transport Metropolitans de Barcelona- runs the buses in Barcelona, so this is the name you should look for to find your bus stop.
The duration of the transfer is 30 minutes from T1 and 35 from T2. The cost of a one-way ticket is €4.60 and you can buy it when you board. Finally, the 46 bus runs every 20 minutes and runs from 5am to 12.30am.
Transportation within the city
Metro: The Sagrada Família, Casa Batlló, Platja de la Barceloneta, Arc de Triomf and other places are accessible by metro, making it the most convenient and best way to get around Barcelona.
Diamond-shaped signs with an "M" mark the locations of Barcelona metro stations. This underground rail system serves much of the city on eight lines with different colours. A single ticket costs €2.40 and is valid for 75 minutes. If you are visiting Barcelona for two days to a week, the T-10 ticket, which costs €11.35 for 10 journeys, is your best option.
The metro runs from 5am to midnight from Sunday to Thursday, as well as on public holidays that fall on a working day. On Fridays and on the eve of public holidays, the hours are extended until 2 am. On Saturdays, the metro operates all night.
Bus: Barcelona also has an extensive bus system (more than 80 routes), but it is more prone to delays due to heavy traffic in the city. However, Nitbuses, which run from around 10:40 pm or 11:40 pm to 5 am or 6 am, depending on the route, can be useful for visitors enjoying the city's nightlife. Bus times and schedules vary, starting at 4:25 am and ending at 11 pm. Tickets are the same as the metro, at the same cost. For more information on timetables and fares see here.
Taxi: Visitors wishing to travel in greater comfort can signal for any of the yellow taxis that run in Barcelona throughout the day. Typically, prices start from 2.10 euros, but at night and on weekends prices may increase. Alternatively, several taxi apps operate in Barcelona – Hailo and MyTaxi are the most popular options.
Check prices here.
Car: If you do not plan to leave the city, it is not recommended to rent a car. Many of the narrow roads were designed and built before the invention of the car. Therefore, traffic congestion and traffic jams are quite common. Parking is also difficult. The city has parking spaces, but it is common for people to reserve spaces in advance. Some daily rates may be reasonable (between 15 and 20 euros or for the day), while others may be downright outrageous (over 45 euros). If you show up at a parking lot without having reserved a spot, you may incur higher charges. And since 2016, Barcelona's city council announced a plan to ban 60% of its streets from the use of tourist vehicles.
If you need to rent a car, you must be at least 21 years old and have an international driving licence. However, for someone who wants to hire a car to get out of the city and take a roadtrip outside of Barcelona we recommend booking a vehicle that meets your needs before the trip. Find the link here.
Bicycle: Cycling is a great way to get around Barcelona. Less than a decade ago, you could barely see cyclists in Barcelona, but in recent years the city has made a huge effort to become bike friendly. There are plans to add even more bike lanes in the coming years.
Unfortunately, only locals can use Bicing, the public bike rental service. It is not yet available for tourists. However, visitors wishing to tour Barcelona by bike can easily rent one at any of the bike rental shops around the city. The city centre is relatively flat, which makes it quite easy to tour and explore by bike.
On foot: Barcelona is such a beautiful, picturesque and vibrant city that it's worth experiencing as much as you can. You might find a special architectural building or a nice place to eat on every block. That's why walking through the streets of Barcelona, going from neighborhood to neighborhood and getting a taste of the architecture and social contrasts, is one of the best things you can do in the city.
Check out our video from Barcelona here.
What to do in Barcelona
Sagrada Familia
Being in Barcelona and not visiting the Sagrada Familia is "sacrilege" in informal tourist terms! The extraordinary Gaudí church is dedicated to the Holy Family and is known as the largest unfinished church in the world. Construction is scheduled to be completed in 2026, 144 years after construction began.
The Sagrada Família combines several architectural styles, including Catalan modernism, Art Nouveau and Spanish late Gothic, but Gaudí's masterpiece defies these kinds of definitions when you stare open-mouthed at the ceiling of the nave. Visitors are first impressed by the exterior appearance of the temple. The expressive façade of the Nativity, depicting the birth of Jesus, and the imposing façade of the Passion, depicting Jesus' suffering, death and resurrection are impressive.
Gaudi was also inspired by the colours and curves of nature in his designs, particularly for the interior of the temple. Inside, the surprises continue with majestic tree columns and incredible stained glass. In the daytime, sunlight shines through the stunningly colorful stained glass windows creating a sense of warm awe for the visitor. Queues tend to get very long to enter the Sagrada Familia, so we recommend booking your ticket in advance to avoid waiting. To skip the line tickets and also for a guided tour, click here.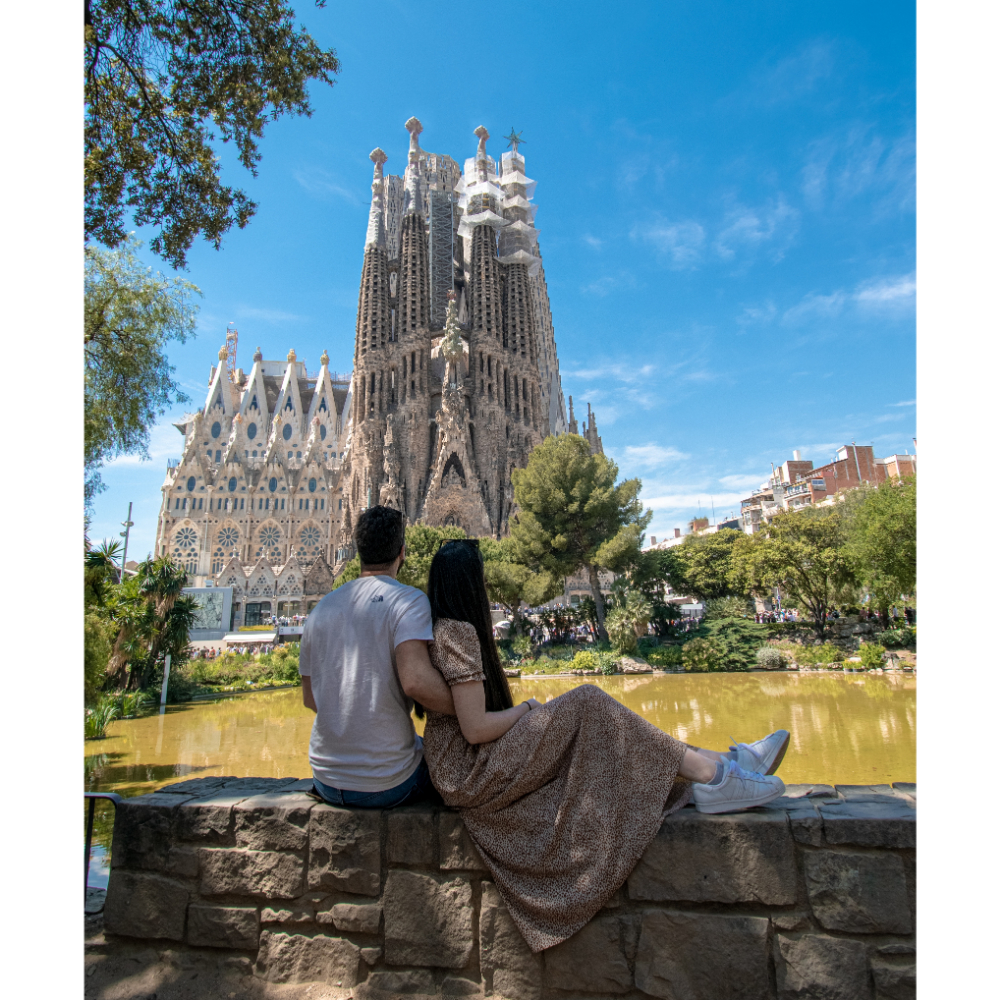 Park Güell
It is Gaudí's greatest triumph in urban planning and shows the architect at his most organic. The city's largest park began as a collaboration between businessman Eusebi Güell (hence the park's name) and Antoni Gaudí. Using the foothills of the Collserola as a canvas, Gaudí designed an architectural park whose structures (houses, fountains, columns, walkways) often resemble extensions of nature.
Columns sprout like tree trunks, arches are jagged like cave openings, and a giant lizard guards its fountain with scales made of mosaic tiles. Don't forget to take photos on the monumental mosaic huge bench, as it's one of the most photographed places in Barcelona.
The lizard staircase and the view of the city from the Plaza de la Nature, the large open space surrounded by an undulating wall of mosaics are on Park Güell's must-see list. Here it is important to know your ticket options. The free ticket gets you into the park, but not into the best places. For this (and to see the lizard and the Square of Nature), you need a 10 euro ticket. Book in advance online and arrive in time for the designated time. For more information on tickets and for organised guided tours see here.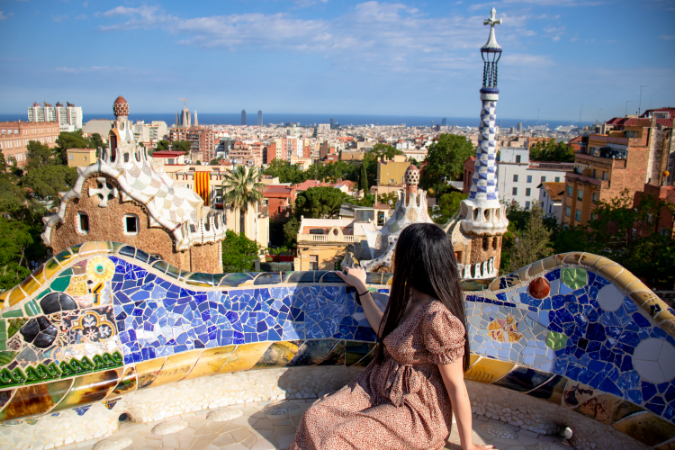 Las Ramblas
Barcelona's most famous street, a pedestrianised avenue of almost a mile from Plaça Cataluyna to Port Vell, a walking route for visitors to the city. Even small vendors with selfie sticks can't match the charm of the old-school florists, gelaterías and sweet stalls offering bites of crema catalana (a form of crème brûlée) along the street. A classic question asked by many is whether it is pronounced La Rambla or Las Ramblas? In fact it is both. Originally, the area consisted of five mini-ramps: the Rambla de Canaletes, Estudis, Sant Josep, Caputxins, and Santa Mònica, but later they were joined together and today, the street sign reads La Rambla.
Of the 78 million people who walk La Rambla each year, only 20 percent are from Barcelona. They are gentlemen reading newspapers in the sun or locals entering through a side entrance to La Boqueria market. The other 80 percent are sightseers, bachelor parties and street vendors selling Michael Kors bags of dubious, shall we say, origin.
As annoying as it is to keep your bag clutched to yourself for fear of pickpockets, La Rambla has a charm that attracts 78 million visitors a year. The facades of its buildings are strikingly beautiful: the opera house, Gran Teatre del Liceu, and at number 83, the Antigua Casa Figueras is an unexpected hodgepodge of Catalan modernism, replete with stained glass and mosaics. Plaça Reial (exit La Rambla via Carrer de Colom) is a regal yellow square with bars and restaurants; next to the fountain, find lampposts designed by the young Gaudí. Also, watch your step between La Boqueria and the Liceu metro station: artist Joan Miró created a street mosaic that, despite its bright colours, many people miss.
Casa Batlló
Barcelona may be full of beautiful buildings, but Casa Batlló (pronounced "Casa Bat-yo") is really special. Textile industrialist Josep Batlló commissioned Gaudí to design this house after seeing his work in Park Güell, with a brief to create a style of house that none of the other members of the Batlló family would have. The result is at once grand and warm and, according to the instructions, unique.
Casa Batlló's architecture is inspired by nature, with no straight lines (because they don't exist in nature, as Gaudí claims), stone pillars that rise like animal bones and a tall, blue staircase reminiscent of Jules Verne. For those who are not satisfied with admiring the exterior of the Casa and wish to tour the interior, we recommend booking their ticket the day before to avoid the queue at the entrance. The ticket price starts at 35€ and goes up to 59€ as you will see on the official site (children are free). For offers and prices you can also check here.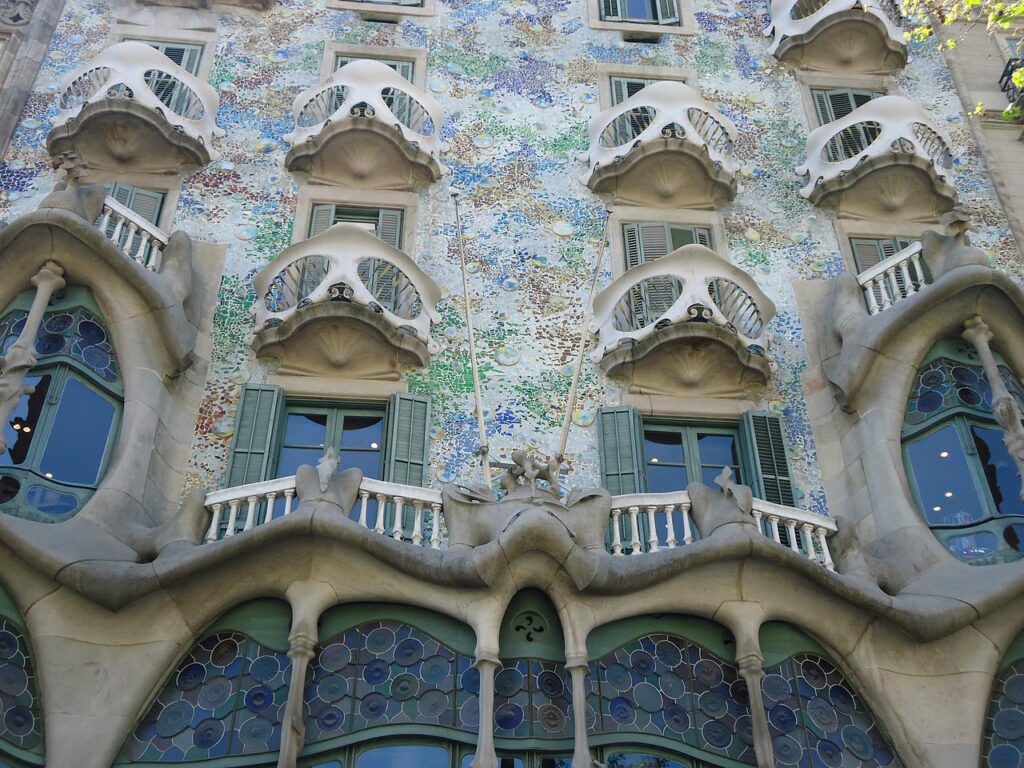 Catedral de Barcelona
On your walks through the old town of Barcelona, you will come across the Cathedral of Barcelona. It may not have the glamour of the Sagrada Familia and may not be as well known, but it is a giant Gothic temple that dominates the narrow streets and quaint little shops.
The official name of the cathedralis the Cathedral of the Holy Cross and St. Eulalia. It honours Eulalia, a local girl who refused to accept the Roman Emperor Diocletian's demand that she recant her Christian faith. His retaliation was 13 forms of torture, followed by beheading, during which a dove is said to have flown from her neck. This is why, inside the caves of the cathedral, you will find a pond with 13 white geese. Not statues, but live, squawking geese.
The cathedral is impressively intricate and the monthly organ recitals are particularly loud. It may be a place of tourist interest, but it is still a place of religious practice and we would like to mention that you should be conservative with your clothing-your shoulders and legs should be covered.
Prices range from free to €3 or €7, depending on the purpose and time of your visit, so check online before you go as they change daily.
Sant Josep Boqueria
Sant Josep Boqueria, also known as "La Boqueria", is located in the heart of Barcelona city, on La Rambla. It is known as a perfect quaint market, which was once the square of the Sant Josep church that was eventually turned into an open market. It is open from 9am to 8pm, Monday to Saturday and admission is free.
The entrance to the market is made of a metal/glass structure, but it is the interiors that make it stand out worldwide for the huge variety and quality of its products. La Boqueria is today, a symbol that has put Barcelona on the world map in terms of selling fresh produce. A visit to La Boqueria is one of the best things to do in Barcelona if you are a food lover!
There are more than 200 stalls/stands full of savoury, sweet dishes, drinks or even small restaurants with their own tables within the market. But what can you try at La Boqueria? Meats, cheeses, seafood, breads, olives, pastries (empanadas), fruits, vegetables, juices, sweets, ice creams and granitas and much more. You can buy large portions to take home or smaller portions to try while you're there.
Arc de Triomf
The Arc de Triomphe is a monumental stone gate at the entrance to the Parc de la Ciutadella, where the Eiffel Tower was supposed to be. It is a triumphal arch built by the architect Josep Vilaseca I Casanovas as the entrance gate to the Barcelona World Fair in 1888, which was held in the Parc de la Ciutadella. This monument is of classical design and its proportions and features are truly stunning. The decorative finishes of the structure are full of symbolism and are undoubtedly one of Barcelona's most iconic landmarks. Access to the Arc de Triomf is very easy as there is a metro stop of the same name.
Parc de la Ciutadella
The space is huge: few parks could house a city's zoo and the regional parliament, let alone place them next to each other as is the case here. The Cascada Monumental, built with Gaudi's input in his early days as an artist, is a stunning golden waterfall that will impress and relax you. So will the serene boating lake next to it.
Enter through the Arc de Triomphe and the ornate modernist building on your right is the Castell dels Tres Dragons, built by Lluís Domènech i Montaner. Another beautiful, but no less mysterious, series of structures is the cast-iron Umbracle (palm house) and Hivernacle (winter garden) in front. Formerly spaces for all manner of tropical leafy life, the latter sits eerily closed – except on special occasions, or, frankly, if you're lucky.
Between the above spots in Parc de la Ciutadella, you'll find people sunbathing or relaxing on the grass, exercising or doing yoga, dancing and singing, or just being happy amongst this lush green park. What we remembered was at the big gazebo in front of the Cascada Monumental, where a retirement home had organized a dance and there were so many people dancing, and dancing really well, to the rhythms of Latin music.
Barceloneta
The old fishing village of La Barceloneta (Barcelona's current seaside neighbourhood) borders the long, wide Sant Sebastià beach, where locals go for sunbathing, surfing and the many seafood restaurants and tapas overlooking the sea.
Sant Sebastià beach has a wide range of amenities: lifeguards, public toilets, showers, leisure sports facilities, sunbed and umbrella rentals, ice cream stands and snack bars. A long palm-lined promenade connects the Sant Sebastià beach area with marinas full of boats.
The popular Barceloneta Beach is also located in the La Barceloneta neighbourhood. This beach has excellent facilities: lifeguards, public toilets, changing rooms, showers, sunbed and umbrella rentals, snack bars, ice cream stands, leisure sports (such as beach volleyball and table tennis) and restaurants.
Camp Nou Stadium
Just as Catalan modernist buildings are a must-see attractions for architecture lovers, Camp Nou is a must-see attraction for football fans. Camp Nou was one of the venues for the 1992 Summer Olympics in Barcelona and is now home to FC Barcelona. The 99,354-seat stadium is the largest in Europe and the second largest in the world.
Camp Nou offers guided tours, led by bilingual official FC Barcelona guides. The tours (in English and Spanish) cover the highlights of the stadium, including the pitch, the team changing rooms, the players' tunnel and the commentators' boxes. Also, includes a visit to the Barça Museum. The Barça Museum displays trophies, photographs and multimedia exhibits, including videos of Barcelona's winning goals.
In the Barça Cafe at Camp Nou you can watch live and recorded games on big-screen TVs. Chefs work in an open kitchen where guests can watch the action, preparing traditional Catalan dishes such as grilled meats and fish cooked in a wood-fired oven, as well as some of the FC Barcelona players' favourite tapas. Barça Cafe is open daily from 10 am to 7 pm.
Montjuic
There are many great things about Montjuic, a historic hill that is much more than "just a hill". For starters, you go up by cable car which is something special. From the roundabout at Plaça España, a dramatic, architectural staircase appears majestically out of nowhere, leading up to the Museu Nacional d'Art de Catalunya (National Museum of Catalan Art). It looks like a palace with an impressive fountain in front of it, even called the Magic Fountain. (Come at night, from Thursday to Saturday, for an aquatic extravaganza; during the summer, from 1 June to 30 September, from Wednesday to Sunday.) So far, we've described about 400 metres of Montjüic: the rest has more museums, the 1992 Olympic site, exotic gardens and enough panoramic views to fill your camera memory!
Aquàrium Barcelona
The Barcelona Aquarium, a modern learning centre and a world-renowned tourist attraction, is home to an astonishing number of Mediterranean sea creatures. With 450 different species in more than 35 exhibits, the aquarium displays some of the rarest examples of marine life from around the world within its extensive facilities.
Located in Port Vell, L'Aquàrium Barcelona attracts crowds in every season, and unlike several other aquariums, it also hosts a 'shell exhibition' and a separate section on vibrant ocean life. The Barcelona Aquarium also has a special area for children and adults. So if you ever get bored of walking, sneak into the children's section for a little educational refreshment! A typical day at L'Aquàrium will include a range of interactive activities in addition to some educational fun.
Exquisitely constructed, the Barcelona Aquarium will present you with 11,000 sea creatures, which are spread across 35 tanks, each one specially designed to suit their area. These include eels, stingrays, sharks and many rare species from around the world. Meet the seven zones (or aquariums) that focus specifically on tropical marine life. In addition to hosting many interactive programs for children and adults throughout the week, L'Aquàrium Barcelona also features a moving sidewalk that allows tourists to walk right through a tunnel, right into the Oceanarium. Have an up close and personal experience diving in a cage, with sharks within reach. For more information click here.
Trip to Andorra
Andorra is tiny, which makes it ideal for a day trip from Barcelona. If you want to make the most of your trip, leave early and plan your day in advance. And if you have a few days to spare, we recommend spending an evening or two in the small but beautiful country.
We suggest renting a car and setting off on your journey through lush green landscapes. The duration of the trip is 2 and a half to 3 hours and about 200 kilometers. It is worth visiting the highest city in Europe for its picturesqueness, for its duty free shops but also for its ski resorts and chalets.
Trip to Figueres
Although small in size, Figueres is a great city to visit and has a lot to offer tourists. From a number of interesting historical sites and museums to the countless tributes and references to Dali, Figueres is a great destination for all those who choose to visit. For us, the main reason for visiting was the Dali museum, which had been recommended to us by many people and for which we had seen many photos. For organised day tours from Barcelona see here. Finally, you can rent a car and combine it with the above mentioned excursion to Andorra.
Best Places to Eat in Barcelona
Colom Restaurant: Close to Reial Square, in one of the parallel streets of Las Ramblas, is the Colom Restaurant. This is a traditional Catalan restaurant with traditional dishes for those who want to sample the flavours of the city they are visiting. The queue may be relatively long, but it is worth the wait for the warm atmosphere of the restaurant and the friendly and helpful staff. We recommend trying the seafood paella, sangria and all kinds of tapas!
Bar Jai-Ca: The service was very quick and pleasant and the staff were very attentive to ensure we were satisfied. In terms of prices, the dishes were much more affordable than the downtown establishments and the quantities were enough to fill us up. We don't have any specific dishes to recommend as they were all delicious and we were unable to pick out any.
Pim Pam Burgers: It's a small shop near Parc de la Ciutadella, without enough seats to sit down. But it has the tastiest burgers you've ever tasted. The bun is fluffy, the burger is well cooked and the ingredients are fresh. Don't miss it!
Le Romane: It was Italian night and after searching for the best in town we ended up at Le Romane. And it was the best choice! We booked a table first to ensure a comfortable table as we were 2 families with a baby and a child, and arriving there from the first moment we knew we would have a great time. The staff were so friendly and helpful. The choices for the slices on the pizza seemed endless and ultimately delicious as well as the risotto and carbonara were delicious and quite filling. What you should try though is the sagria, where I have to admit we asked for a 2nd glass and if we weren't with the kids we would have ordered a 3rd.
When to go
Barcelona is a year round destination, although late spring/early summer (May/June) and autumn (September/October) are the best times to visit. The weather is always good, there are endless blue skies and tourism is in a slight lull. Spring has temperatures around 20°C (68°F) and autumn offers high temperatures around 23°C (73°F).
July and August are the hottest months to visit, with daily temperatures of over 28°C (85°F). It may be very humid, but at least you can cool off on the beach. However, this is peak tourism season and the city is oversaturated with travellers, especially holidaymakers from Europe and those who come on cruise ships.
Barcelona's summer months are certainly upbeat and fun, but all those crowds can be difficult to manage. Travel in the mid-season to make the most of the city.
Winter in Barcelona doesn't get super cold, with daily maximum temperatures between 10-15°C (50-60°F). The city isn't as lively, but the hordes of tourists have dispersed, so things are quieter. Although it's not the best time to visit, there's still plenty to see and do.
Useful Sites & Apps
In the last few years we have been travelling we have singled out some applications, which we use before every trip or during it. We have chosen them over others for their validity, ease of use and variety in the options they have to offer. We describe below in detail what these are together with their characteristics.
Booking.com is a popular online booking platform for accommodations worldwide. With a vast selection of hotels, apartments, villas, and more, Booking.com offers travellers the convenience of finding and booking their ideal stay in just a few clicks. The site's user-friendly interface and extensive filtering options make it easy to narrow down search results based on specific preferences such as price, location, amenities, and more. As a result, Booking.com has become a go-to destination for travellers looking for hassle-free booking options. With competitive pricing and a loyalty program that rewards repeat bookings, Booking.com is a top choice for travellers seeking great deals and a seamless booking experience. For available rooms and prices look here.
One of the best, most trustworthy, and most convenient 5-star airport taxi companies for your airport transfer based on user reviews across various platforms such as Google, Tripadvisor, and Trustpilot. Welcome Pickups offers a great experience and safety to its travelers. Local English-speaking drivers, flat, pre-paid fee, flight monitoring for delays, 24/7 Customer support + free cancellation. Check your options here.
Air Bnb
With more than a million properties around the world and still growing. A very popular choice for those looking for more affordable options even at the most expensive locations. Having the choice to pick an apartment or even a whole villa would make you feel more at home while you travel.
Hotels.com is a leading provider of hotel accommodation worldwide, offering booking services through its own network of localised websites. Once you reach 10 nights, you'll have a free night which you can apply at checkout. You can earn multiple free nights by continuing to book with Hotels.com, though. The platform gives travellers one of the widest selections of accommodation on the net, including both independent and major chain hotels as well as self-catering in over hundreds of thousands properties worldwide. The company offers a one-stop shopping source for hotel pricing, amenities and availability. Find the best deals here.
Tripadvisor helps hundreds of millions of people each month become better travellers, from planning to booking to taking a trip. Travellers across the globe use the Tripadvisor site and app to discover where to stay, what to do and where to eat based on guidance from those who have been there before. With more than 1 billion reviews and opinions of nearly 8 million businesses, travellers turn to Tripadvisor to find deals on accommodations, book experiences, reserve tables at delicious restaurants and discover great places nearby. Find available offers and book your accommodation here.
Omio is a leading travel platform that helps you easily plan and book your trips. With a comprehensive network of trains, buses, and flights across Europe and beyond, Omio allows you to compare and choose the best travel options for your needs. Whether you're looking for a quick day trip or an extended vacation, Omio's user-friendly interface and competitive prices make it easy to create unforgettable travel experiences. Check available routes here.
Skyscanner is a leading global travel search engine, helping millions of travellers find the best flights, hotels and car rentals. With a user-friendly interface and powerful search technology, Skyscanner makes it easy to compare prices and options across hundreds of travel providers, giving you the best deals for your trip. From budget to luxury, domestic to international, Skyscanner has everything you need to plan your next adventure. So whether you're travelling for business or leisure, start your journey with Skyscanner and discover the world like never before. Available flights and prices can be found here.
GetYourGuide is an online marketplace for booking travel activities and experiences. With a wide variety of tours, activities, and attractions available in destinations around the world, GetYourGuide makes it easy to find and book unique experiences for your next trip. From city sightseeing tours and food and wine tastings to outdoor adventures and cultural experiences, GetYourGuide has something for every type of traveller. With a user-friendly website and mobile app, and a commitment to customer satisfaction, GetYourGuide is a top choice for travellers seeking memorable and authentic experiences. For available activities and tours check here.
DiscoverCars.com offers a hassle-free car rental booking experience, with a wide range of rental car options available worldwide. Whether you're travelling for business or pleasure, DiscoverCars.com offers competitive rates, 24/7 customer support, and flexible cancellation policies. With no hidden fees and a user-friendly interface, booking your rental car has never been easier. Choose from a variety of car rental options, including economy, luxury, and family-friendly vehicles, and enjoy the freedom of the open road on your next adventure. Book with DiscoverCars.com today and start exploring the world on your own terms!
Hotel Tonight
Here you will find last minute discounts on vacancies from hotels. This is an amazingly simple app and it doesn't take long to book a room. You may search in each town for sights and maps. Furthermore, you can check the reviews and photos of other travellers in order to be sure about the trustworthiness of each hotel. It also has a 24/7 customer service. If you're stuck somewhere and you need a room desperately, this is the perfect app for you.
City Maps 2Go
Maps for travelling, hiking, mountain cycling and many other activities. A necessary app for every adventure, activity or touring abroad. You may only download one map per country, whereas it was possible to download two in the past. For an additional map you need to pay.
You can mark all the places of interest on the map you have downloaded. Whether they are sights, shops, or restaurants you can use the directions guide to get there. The great advantage to this app is that you don't need to have internet connection although it might get stuck a few times. Nevertheless, it is quite a reliable and useful app.
EXTRA TIP
Once you have marked all the places you want to visit prior to your trip, you can also book your accommodation accordingly. This way you can be sure you'll be staying somewhere close to all places of interest.
iVisa.com is an online platform that helps travellers obtain electronic visas, eVisas, and other travel documents quickly and easily. With an extensive database of travel requirements for over 200 countries and a user-friendly application process, iVisa.com makes it simple for travellers to apply for and obtain the necessary documents for their trips. Whether you're planning a vacation, business trip, or other travel experience, iVisa.com can help you navigate the complexities of travel documentation with ease. More information for the necessary travel documents, depending on your nationality and destination can be found here.
Find a city's hidden gems & cool places directly from the people who know it best. Keep local travel ideas in your pocket. Simply choose your list of cool places & click 'download' on the confirmation screen after checking out. The link will open in Google Maps. Hit 'follow' and save it for later. Download the Ultimate Barcelona Travel Guide here.