Bucharest, or the "Paris of the Balkans", is only an hour and a half away from Athens by plane. It has gone through many difficulties in the past, whether we refer to World War II or the political regime of Ceausescu. However, it has left this past behind, as it is now developing both commercially and in terms of tourism.
It is the ideal destination in the Balkans for a quick getaway, as it is a fairly economical option. In our article below, you will find details of what you can see in Bucharest and the ideal excursions within easy reach of the capital.
General Information
Bucharest is the capital and largest city of Romania.
It has a population of about 1.9 million inhabitants.
Bucharest was first mentioned in documents in 1459 and became the capital of Romania in 1862.
It has two airports, Henri Coanda (OTP) and Aurel Vlaicu. The former is the city's international airport, while the latter no longer operates passenger flights. For available flights and prices see here.
Information for the necessary travel documents, depending on your nationality and your destination can be found here.
The predominant language is Romanian and many people do not know English at all. In the tourist spots, things are somewhat better, but not always.
Transportation
Transfer from/to the airport
The main airport in Bucharest is, as mentioned above, Henri Coanda. It has an organised transport network to most areas, including of course the centre of Bucharest. It is located in Otopeni, about 18 km away from the centre of the capital.
Taxi: To take a taxi you must have already booked a ticket in advance from the automatic taxi machine located inside the arrivals hall. Thus, the taxi which you have booked will arrive at the time specified by the ticket according to the expected waiting time, bearing the corresponding number on the side of the vehicle. Taxis at Bucharest airport are always yellow and have distinctive signs with the name of the company and the charge per kilometre.
For reservations and prices see here.
Train: Every 20 to 40 minutes you can travel to and from the airport, 24 hours a day. The Bucharest Henri Coanda Airport train station is located opposite the airport arrivals hall. The travel time from the airport to the main railway station of the city (Bucuresti Nord / Gara de Nord) is 25 minutes. Patinoar PO and Parc Mogoșoaia stations are the only stops. Tickets can be bought online and at the stations from ticket offices and ticket machines.
Bus: You can get to the centre of Bucharest by bus 783. The bus stops are located in front of the arrivals hall and departure hall of the airport. The final stop of bus 783 is "Piata Unirii" (metro M1, M2 and M3), a large square in the south of the city centre. The journey time is 45 minutes. On the route, the bus also makes stops at Piata Victoriei, Piata Romana and Piata 21 Decembrie 1989 (Universitate). Bus 783 operates 24/7 with different frequencies during the day and night.
Rooms for Bucharest can be found here.
Travel within the city
Bucharest has an extensive network of metro, bus, tram and trolleybus services. All of the above can get you to your destination quickly, easily and economically. STB is the company that manages the public transport network of buses, trams and trolleybuses. Therefore, you can use the same ticket or card for all three modes of transport. Metrorex is the company that manages the city's metro system. Metro tickets and cards can be purchased from any station.
Note: You cannot use tickets for STB means of transport (buses, trams, trolleys) on the metro or vice versa.
Metro: The metro in Bucharest has four lines. Although relatively modern (the first section was only opened in 1979). The metro operates from 05:00 in the morning to about 11:00 p.m. Using the metro is usually considered the fastest way to get around Bucharest. However, it is crowded during peak hours and its biggest disadvantage is the relatively short distance it covers. New metro lines and stations have been launched in recent years, so there is better coverage. Especially the central area and the more tourist places are well covered, so there is no need to worry.
Buses & Trams: Tickets can be purchased at kiosks throughout the city, which are generally located near bus stops. Most ticket issuers do not speak English, so it is a good idea to know the word for ticket in Romanian which is "bilet".
Taxi: They can be a quick way to get around, but this depends on traffic, which is extremely heavy during rush hour. However, taxis are a good option when the daily bus service has stopped. When using a taxi, always check the price on the side of the vehicle. Once you get in, check that the meter shows the same price and make sure the driver has turned it on.
Some taxi service apps are operating in Bucharest. Local apps include Clever Taxi and Star Taxi, while Uber and Taxify are also an option. These are often cheaper than a regular taxi and also have the added benefit of showing the fare in advance.
For prices and availability for intra-city taxis see here.
Car: You can hire your vehicle, especially if you are with other people and want to get out of the capital. It will be cheaper and at the same time, you will have your schedule, without unnecessary stops and waits. Availability and rental rates can be found here.
What to do in Bucharest
"The Palace of Parliament" (Palatul Parlamentului)
The architecture of the old town, with its cosmopolitan air, was marked by the redevelopment project of Ceausescu in the 1980s. Under the plan, a huge part of the historic centre was demolished, including many religious buildings and thousands of houses. The centrepiece of this development was a huge new palace for the communist leader, now known as the Palace of the Parliament, which is Bucharest's most important tourist attraction.
At the western end of Bulevardul Unirii stands the colossal Palatul Parlamentului (Palace of Parliament), which is the second largest administrative building in the world, after the Pentagon, measuring 270 by 240 metres and 86 metres high. It is the epitome of the megalomania that gripped Ceausescu in the 1980s. It has twelve floors, four underground levels (including a nuclear shelter), a 100-metre-long lobby and 1100 rooms, about half of which are used as offices, the rest is redundant. The interiors are lavishly decorated with marble and gold leaf, and there are 4,500 chandeliers (11,000 were planned), the largest of which weighs 1.5 tons, but the decoration was never completed due to Ceausescu's ever-changing whims.
Subsequently, the new government spent a long time struggling for acceptable use of the building and in 1994 it was finally decided to house the Senate and Parliament and is now also used for international conferences.
Kiseleff Avenue
Soseaua Kiseleff, a long, elegant avenue of ash trees, runs north from Piata Victoriei towards Herastrau Park and the Village Museum, one of Romania's best open-air museums, before heading towards the airports and the main road to Transylvania. Modelled on Parisian chaussées (usually, long straight avenues of gravel or crushed stone), though named after a Russian general, Soseaua Kiseleff is a product of the Francophilia that swept Romania's educated classes in the nineteenth century and even boasts its version of the Arc de Triomphe.
Old Town
From Piata Unirii in the south, Calea Victoriei in the west and Bulevardul I.C. Bratianu in the east, Old Town, an area more commonly known as Lipscani, thankfully escaped the bulldozers of Ceausescu and now offers a welcome respite from the monotony of Centrul Civic. The main street is Strada Lipscani itself, a lively street named after the Leipzig merchants who traded in the area in the 18th century. Bucharest's oldest neighbourhood, an otherwise picturesque and pleasantly decaying maze of streets and crumbling houses, has been undergoing a painfully slow redevelopment for years, and while many parts of it remain hopelessly run-down, the sheer volume of restaurants, cafes and bars in the area makes it the place to have fun in the city.
Arch of Triumph
The Arc de Triumph is 27 metres high and is located on Kiseleff Street, in the northern part of Bucharest. After Romania gained independence in 1878, wooden beams were hastily constructed and erected soon afterwards so that victorious troops could pass underneath.
The arch was rebuilt in 1922 and later replaced in 1935 to honour Romanian soldiers who fought in World War I. Now, the structure is made of stone and adorned with statues of Romanian heroes. It is a popular tourist destination, as it is one of Bucharest's most recognizable attractions.
Unirii Square
The city's largest square, Unirii, is behind the large shopping malls and advertisements that flash brightly with neon lights as soon as darkness falls.
Cheap hostels in Bucharest can be found here.
The Church of Stavropoleos
Biserica Stavropoleos is a church in the centre of Bucharest built in 1724. Apart from its impressive architecture, it is known for the Byzantine music played by its choir. It has an excellent library with more than 8,000 books, including the largest collection of Byzantine music books in Romania. It also has an impressive collection of religious objects. Although extensively damaged by earthquakes over the years, it has been carefully restored and the chandeliers and the dome of the church are particularly beautiful.
Calea Victoriei Avenue
Huge and busy avenues, with wide sidewalks, intersect there. You will see luxury hotels of well-known chains, very expensive boutiques, trendy cafes, countless casinos and prestigious buildings, with the Military Academy being a typical example.
Village Museum (Muzeul Satului)
The most important attraction in Bucharest is the Muzeul Satului (Village Museum) on the shores of Lake Herastrau. The entrance is located on Soseaua Kiseleff Street, just above the Arc de Triomphe. Founded in 1936, it has a total of over three hundred houses, workshops, churches, windmills and other structures from every region of the country, thus illustrating the extraordinary diversity of Romanian architecture.
Of greatest interest are the carved oak houses, as well as the gates with beams carved with animals and hunting scenes, Adam and Eve, the Tree of Life, and suns and moons. The souvenir shop there is the best place in town to buy folk art items such as textiles and costumes, ceramics and wooden utensils.
Piata Revolutiei (Revolution Square)
Revolution Square, a large, irregularly shaped square cut in half by Calea Victoriei, was created in the 1930s to provide a protective field of fire around the Royal Palace in the event of a revolution. While Romania's monarchy was overthrown by other means, the square fulfilled its destiny in 1989, when the Ceausescu couple were forced to flee by crowds besieging the Communist Party headquarters.
Herastrau Park
Designed in 1936, it is the largest park in Bucharest. It is suitable for casual walks for both tourists and locals. There are even several paths leading to numerous lakeside snack bars and restaurants, as well as a pier where you can rent rowing boats or take a mini-cruise on the lake. The residential area east of the park is one of the most exclusive neighbourhoods in Bucharest. This is where the communist elite once lived, isolated from the ruling masses.
Romanian Athenaeum
The Ateneul Roman (Romanian Athenaeum) is a magnificent neoclassical building built in 1888 by the French architect Albert Galleron. It claims the title of the best building in Bucharest. It is surrounded by six elegant columns, behind which, on the peristyle, are five circular mosaics, each depicting a Romanian ruler, including King Charles I. It was almost entirely financed by the citizens of Bucharest, as the original sponsors ran out of money, and is one of the few remaining circular amphitheatres in Europe.
It hosts concerts of the George Enescu Philharmonic Orchestra, named after Romania's beloved national composer. In Piata Enescu, the small, tidy park in front, there is a statue of Enescu, who first appeared at the Atheneum in 1898.
Carturesti Carusel Bookstore
It is an impressively large and beautiful bookstore in the heart of the capital. Located in an old bank, it has six levels and covers an area of over 1000m2 that is filled with books. It is incredibly beautiful inside with elegant decoration. Its intricate arches, spiral staircases, overflowing bookshelves and columns have made this bookstore a monopoly even on Instagram.
You can find over 10,000 volumes of books to buy in their store. There are fiction sections, classics, poetry, self-help, gardening, biographies, and children's books. It also has a multimedia area in the basement, a modern art gallery on the first floor and a bistro at the top. It's an innovative place for people to visit where they can read, socialize, be inspired and connect.
Finally, the bookstore has an amazing selection of over 5,000 movies for sale along with vinyl records and CDs. You can also find an area with stationery, travel luggage, toys, crafts from local artisans, chocolates, local wines and Romanian souvenirs that you can buy to take home with you.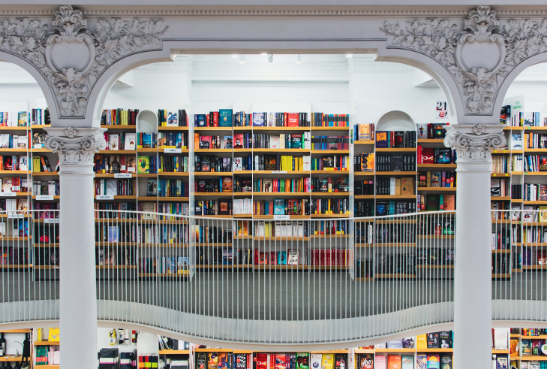 Gradina Cismigiu
In the middle of Bulevardul Regina Elisabeta, the magnificent Cismigiu Gardens were formed as a park on land bequeathed to the city in 1845. Originally, it belonged to a Turkish water inspector. The gardens include a serpentine lake in which small boats and bicycles glide, rented by couples seeking solitude among the swans and willows. Otherwise, the gardens are just a quiet space, with workers resting under the trees at lunchtime and retirees meeting for games of chess. At the northern end of the park, a Roman garden contains busts of some of Romania's great literary figures and, for children there is an attractive little playground by the lake.
Excursions to nearby areas
Within easy reach of the country's capital, one can head to the Carpathian Mountains. The train ride is very beautiful, but you can also go in your car. You can take the train from the central station Gara de Nord. Usually, travellers choose the famous castle of Bran, also called the castle of Count Dracula, the Peles castle in the town of Sinaia, and the beautiful medieval town of Brasov.
More options can be found in our Romania article here.
Best places to eat in Bucharest
Caru cu Bere Brewery
Considered one of the hot spots in the old town. You can't be in Bucharest and not visit it. It is the favourite meeting point for both locals and foreign tourists. It has an amazing atmosphere and there are many interesting details inside. There are many varieties of beers, but also several choices of meats and appetizers, which are delicious and well-cooked.
Grand café Van Gogh
An elegantly designed restaurant, serving great food and drinks, known for its special weekend brunch, located in the heart of Bucharest! It offers perfectly cooked salads with goat cheese, hamburgers and bacon. Many guests come to order good apple pie, French toast and Pavlova. The shop also serves delicious varieties of wines, draught beers and cider.
Zexe
This shop has a unique menu with traditional Romanian flavours. Although the restaurant's tables are set with white tablecloths and good cutlery, it is still a casual restaurant for any occasion. Many choose to try varieties of meat, the beef sweetbread, the pizdulice (a unique piece of pork from the inside of the thigh) and the mitittei (a roasted meatball made from a special blend of meats and house spices). Some nights you might even catch live music.
The Artist Restaurant
This restaurant is housed in an old building with a beautiful layout and has a lovely garden. It is an excellent gourmet experience for the most demanding foodies. The food and presentation of this are excellent, as is the service and the menu with its wine selections. Prices are higher than most places in town but are commensurate with the quality and experience you get.
When to go
Winter temperatures are often below 0 °C, sometimes even as low as -20 °C. For these reasons, avoid trips to the city at that time, as it is likely that much of what you want to do will be postponed. The only positive thing about the winter months is the more attractive prices for both airfare and accommodation. In summer the average temperature is 23°C (the average for July and August), although temperatures often reach 35-40°C in the city centre in mid-summer. The good months to visit Bucharest are late spring and early autumn. Temperatures are mild and allow for all kinds of excursions.
Useful Sites & Apps
In the last few years we have been travelling we have singled out some applications, which we use before every trip or during it. We have chosen them over others for their validity, ease of use and variety in the options they have to offer. We describe below in detail what these are together with their characteristics.
Booking.com is a popular online booking platform for accommodations worldwide. With a vast selection of hotels, apartments, villas, and more, Booking.com offers travellers the convenience of finding and booking their ideal stay in just a few clicks. The site's user-friendly interface and extensive filtering options make it easy to narrow down search results based on specific preferences such as price, location, amenities, and more. As a result, Booking.com has become a go-to destination for travellers looking for hassle-free booking options. With competitive pricing and a loyalty program that rewards repeat bookings, Booking.com is a top choice for travellers seeking great deals and a seamless booking experience. Find available rooms here.
One of the best, most trustworthy, and most convenient 5-star airport taxi companies for your airport transfer based on user reviews across various platforms such as Google, Tripadvisor, and Trustpilot. Welcome Pickups offers a great experience and safety to its travelers. Local English-speaking drivers, flat, pre-paid fee, flight monitoring for delays, 24/7 Customer support + free cancellation. Check your options here.
Air Bnb
With over one million properties all around the world, and always increasing, ideal for a low budget stay even in expensive areas. Furthermore, because you stay in people's villas, houses or flats you are made to feel more at home by the host of each destination and the homely surroundings.
Hotels.com is a leading provider of hotel accommodation worldwide, offering booking services through its own network of localised websites. Once you reach 10 nights, you'll have a free night which you can apply at checkout. You can earn multiple free nights by continuing to book with Hotels.com, though. The platform gives travellers one of the widest selections of accommodation on the net, including both independent and major chain hotels as well as self-catering in over hundreds of thousands properties worldwide. The company offers a one-stop shopping source for hotel pricing, amenities and availability. Find the best deals here.
Tripadvisor helps hundreds of millions of people each month become better travellers, from planning to booking to taking a trip. Travellers across the globe use the Tripadvisor site and app to discover where to stay, what to do and where to eat based on guidance from those who have been there before. With more than 1 billion reviews and opinions of nearly 8 million businesses, travellers turn to Tripadvisor to find deals on accommodations, book experiences, reserve tables at delicious restaurants and discover great places nearby. Find available offers and book your accommodation here.
Omio is a leading travel platform that helps you easily plan and book your trips. With a comprehensive network of trains, buses, and flights across Europe and beyond, Omio allows you to compare and choose the best travel options for your needs. Whether you're looking for a quick day trip or an extended vacation, Omio's user-friendly interface and competitive prices make it easy to create unforgettable travel experiences. Check available routes here.
Skyscanner is a leading global travel search engine, helping millions of travellers find the best flights, hotels and car rentals. With a user-friendly interface and powerful search technology, Skyscanner makes it easy to compare prices and options across hundreds of travel providers, giving you the best deals for your trip. From budget to luxury, domestic to international, Skyscanner has everything you need to plan your next adventure. So whether you're travelling for business or leisure, start your journey with Skyscanner and discover the world like never before. Available flights and prices can be found here.
GetYourGuide is an online marketplace for booking travel activities and experiences. With a wide variety of tours, activities, and attractions available in destinations around the world, GetYourGuide makes it easy to find and book unique experiences for your next trip. From city sightseeing tours and food and wine tastings to outdoor adventures and cultural experiences, GetYourGuide has something for every type of traveller. With a user-friendly website and mobile app, and a commitment to customer satisfaction, GetYourGuide is a top choice for travellers seeking memorable and authentic experiences. Book your activities here.
DiscoverCars.com offers a hassle-free car rental booking experience, with a wide range of rental car options available worldwide. Whether you're travelling for business or pleasure, DiscoverCars.com offers competitive rates, 24/7 customer support, and flexible cancellation policies. With no hidden fees and a user-friendly interface, booking your rental car has never been easier. Choose from a variety of car rental options, including economy, luxury, and family-friendly vehicles, and enjoy the freedom of the open road on your next adventure. Book with DiscoverCars.com today and start exploring the world on your own terms!
Hotel Tonight
Here you will find last minute discounts on vacancies from hotels. This is an amazingly simple app and it doesn't take long to book a room.You may search in each town for sights and maps. Furthermore, you can check the reviews and photos of other travellers in order to be sure about the reliability of each hotel. It also has a 24/7 customer service. If you're stuck somewhere and you need a room desperately, this is the perfect app for you.
City Maps 2Go
Maps for travelling, hiking, mountain cycling and many other activities. A necessary app for every adventure, activity or touring abroad. You may only download one map per country, whereas it was possible to download two in the past. For an additional map you need to pay. Alternatively, as soon as you have looked at the information on a map you can delete it and then download a new one.
You can mark all the places of interest on the map you have downloaded. Whether they are sights, shops, or restaurants you can use the directions guide to get there. The great advantage to this app is that you don't need to have internet connection although it might get stuck a few times. Nevertheless, it is quite a reliable and useful app.
EXTRA TIP: When you mark most points of interest before your trip, you can see approximately in which area you will need to book a room. To be as close as possible to all points of interest.
iVisa.com is an online platform that helps travellers obtain electronic visas, eVisas, and other travel documents quickly and easily. With an extensive database of travel requirements for over 200 countries and a user-friendly application process, iVisa.com makes it simple for travellers to apply for and obtain the necessary documents for their trips. Whether you're planning a vacation, business trip, or other travel experience, iVisa.com can help you navigate the complexities of travel documentation with ease. More information for the necessary travel documents, depending on your nationality and destination can be found here.