Proposing, (if you are sure you want to do it!!), is something that needs to be done properly in all respects. You've got the solitaire which is patiently waiting, hidden away until the right moment! Then the perfect location needs to be found, based on your preferences, and what you like as a couple. Final, the concept of the proposal has to be formed and enacted in a ¨cunning¨ way. The moment that will mark you for the rest of your lives has to be captured!
Those who love to travel will surely spend hours endlessly searching for the perfect destination where they can make the perfect proposal. Whether you're a lover of adventure, the city, or fine dining, you'll fall in love with these breathtaking places that are mentioned below in our article. (One of which I chose for my proposal to Alice!)
Barcelona: For foodies and those who love the positive vibes of the city
You and your partner always love each other a little more after a great meal and a nice wine. In fact, your first date was definitely associated with a delicious meal. Barcelona meets all the requirements for iconic buildings, carefree walks along the waterfront, positive vibes and some of the best food in all of Spain. Visit the fascinating Sagrada Familia Cathedral by architect Antoni Gaudí and include a visit to the towers – it's the perfect place to propose. Afterwards, celebrate with tapas and local wine for an unforgettable evening.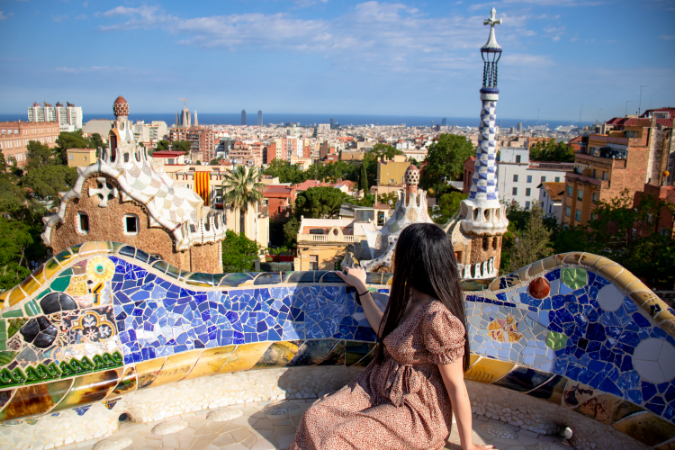 Read our travel guide to Barcelona here.
New Zealand: For extreme activity lovers
Head to the home of adventure and adrenaline, New Zealand. Explore the two islands that make up this lush and unique destination with your partner. Kayak beside waterfalls, get up close and personal with a live geyser, raft caves or hike glaciers, or head out into the open ocean on the famous whale watching cruises. How about saying "yes" as you bungee jump out of one of the world's tallest points, at 134m?!
Find the best travel insurances packages here.
Yosemite National Park: For nature lovers
Put on your hiking boots and head to the stunningly beautiful Yosemite National Park. Admire the stunning waterfalls and rock formations as you enjoy hiking, climbing and exploring this vast park. Spend your nights under the stars on a three-day camping adventure or simply take a day trip. Where better to propose if not under one of the ancient and grand sequoias of the world?
New York: For city lovers
The centre of the world, as many call it. From an exciting night tour of the glittering and vibrant city or a private helicopter ride to a romantic bike ride in Central Park, New York is full of romantic opportunities. A general tip for a proposal is definitely on the iconic Brooklyn Bridge with a view of Manhattan behind. My personal tip is the 230 Fifth Roof Top Bar which is also my choice. An awesome Roof Top in downtown Manhattan with a view directly across the street from the imposing Empire State Building.
More about New York can be found in our article here.
Kruger National Park: For those who love animals
The jewel in South Africa's animal kingdom is Kruger National Park. Experience an animal safari on an open vehicle ride and see the magnificent wildlife first hand. Lions, cheetahs, elephants, zebras, giraffes and deer are some of the species you can spot with your expert guides. For adventurous couples, safari is an exciting way to see the animals up close. Take a three-day safari to really immerse yourself in the forest experience and say "yes" by a campfire with the stars of the southern hemisphere above you.
Available flights and prices can be found here.
Greek islands: For the Beach types
For backdrops with tanned skin, sandy beaches and endless blue, there is no better place than Greece. There are so many islands to choose from, with some of the top romantic options being old time classics. Head to Santorini to propose against the backdrop of the setting sun over the volcano. Or raise the vibes and propose on a romantic catamaran cruise. Party-loving couples will love Mykonos, known for its clubs and lively beaches. Explore it all on an exclusive yacht cruise. If you want peace and quiet and to stay away from the hustle and bustle of the world, you can choose a quieter and more secluded island in the Cyclades or the Sporades with its beautiful green landscapes.
Paris: For the true romantics
There is simply no city more romantic in the world than Paris. Plan the perfect proposal day in the city of lights. First and foremost, take in the sights in a vintage Citroën convertible. Drive along the famous Champs Elysees, see the Arc de Triomphe and head to the famous quarter in Montmartre. Then learn how to make the perfect French sweet treats – macarons – and enjoy them with a sophisticated tea. As night falls, cruise the Seine with a glass of champagne before climbing the Eiffel Tower. It's the perfect spot to propose as the lights of Paris glow below.
Barbados: For luxury lovers
The clear Caribbean waters of Barbados make this island the ideal place for couples who love the good life. Luxury resorts, endless white-sandy beaches and exciting nature activities ensure an unforgettable visit to this part of paradise. Leave your sun lounger behind and explore the island for a day. Visit limestone caves and tropical gardens or experience an off-road adventure in a 4×4. Whether you choose the beach or the jungle as the backdrop for your proposal, it's sure to be magical and something you'll remember forever.
Switzerland: For the sporty types
With its natural beauty and attractions of crystal clear lakes and alpine mountains, Switzerland is the top choice for active couples. Go hiking, biking, climbing, rowing and enjoy all the stunning scenery. There are so many options to choose from. Go paragliding over Lake Interlaken, visit Glacier 3000 after a fun night sledding session or on a cable car ride on Mount Pilatus. Then celebrate with a delicious Swiss hot chocolate to celebrate the yes you've hopefully been given. I would have already said yes in any of the above adventures!
Cappadocia: For those who love heights and want to stand out
You're planning something big for the first time in your life and Cappadocia is the one place you can be sure you won't be disappointed. Turkey's most romantic region offers the ultimate indulgence for visiting couples. What could be more luxurious than sipping champagne in a hot air balloon as the sun rises over the famous fairy chimneys of this unforgettable landscape coupled with the coveted 'yes' you've been waiting to hear?!
Prices and availability for your stay at any of the above places can be found here.