A trip to Alexandria! Once the embodiment of the cosmopolitan spirit this was the city which Alexander the Great created and lived in. As its name demonstrates there is a prominent Greek element evident in many parts of the city. We visited it right after Cairo. Below you will find all the useful information you need for your visit to this city.
General Information
Second biggest city of Egypt after Cairo and the main port.
Famous as one of the seven wonders of the world, the Alexandria Lighthouse, which has been destroyed.
Considered the birthplace of Christian theology.
Estimated population around 5,2 millions citizens.
For more information about Egypt please read here.
Transportations
Transportation from the airport
The airport of Alexandria is at a 48 km distance from the city center.The best way to get to the city center from the airport is by taxi upon the condition that you have already bargained the fare. Otherwise the uber is a wiser choice. The route lasts 40-45 minutes depending on traffic. There is also a bus which connects the airport to the city center, but no one recommends it. An alternative option is to have already booked a room with a hotel which includes the airport transportation in its price.
Transportation within the city
Buses: There is a public bus system in the city centre, which wouldn't be a traveller's first choice.The reason is that they are overcrowded and in combination with the too frequent stops they really delay a lot.There is also a double-decker tourist bus system which makes the city tour. Finally, there are private companies which take on any city transportation.
Micro-Busses: This is a bus system which is mostly used by the locals.They have specific routes through specific areas within the city. Every area usually has its own Micro-Bus at a cost of 17-35 EGP.
Taxi: Taxis in Alexandria are black and yellow and have the same rules as the Cairo ones. In other words, they are obliged to have a taxi metre. However, as the rules are not abided by and some drivers don't use it or ignore it and ask for more money it is better to have arranged the fare beforehand. Always count the change. We were often given less change than we should have been given.
Uber & Careem: Popular apps which are used a lot by tourists. You can choose your route through the app and find the exact price.The only disadvantage is that the local drivers speak little or no English at all. In order to be sure, take a photo of your chosen destination.
Τrαm:This is the oldest means of public transport in Alexandria. It has 20 rail routes and 140 stops and some wagons are double deckers. It is used frequently in the city center either by tourists who are sightseeing or locals on their way to work. Once again the only disadvantage is that it is overcrowded, especially during rush hour, so one must take extra caution with personal belongings.The price ranges from 1-5 ΕP(Egyptian Pounds)
Top things to do in Alexandria
Citadel Of Qaitbay
Initially it was created to fend off attacks from the Ottoman Empire. This Acropolis was considered to be the city's stronghold, not only in Egypt but throughout the Mediterranean. It was built right on top of the ruins of the lighthouse of Alexandria, one of the seven wonders of the world. Inside the castle is a small nautical museum.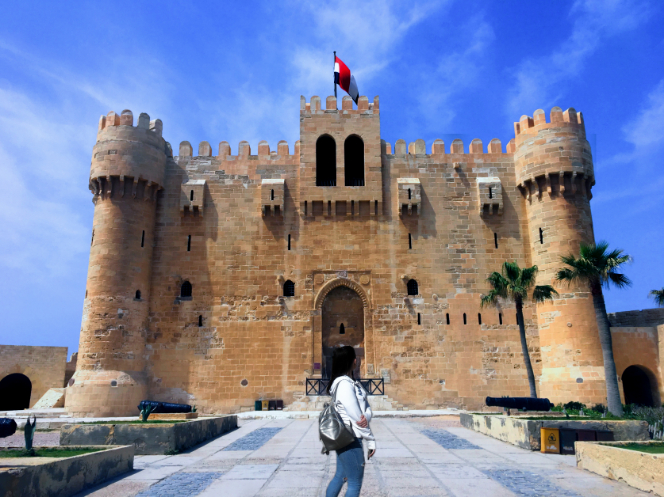 Montaza Palace
This includes the palace, the museum and the royal gardens. The conglomeration also includes 5 beaches. The royal gardens are over 600.000m² and are open to the public. The Al Haramlek and Al Salamlek buildings are very distinguishable, the former being a casino and the latter a luxury hotel.
The Library of Alexandria
The new library of Alexandria started being constructed in 2002 in collaboration with UNESCO, as a reconstruction of the Ancient Alexandrian Library which had been destroyed. It consists of 13 floors and over 8 million volumes of work which are constantly increasing.The building itself is very impressive and modern and you may lounge around reading as long as you like, so long as you are quiet and respect those around you. It is situated a little before the Qaitbay in the Selsela district. Entrance costs 70 EGP normal and 10 EGP for students.
Beach front
There is a long stretch of beaches along the coastal area, adding a sea aura to Alexandria, refreshing the air from the pervading desert heat. Do not fail to enjoy the sunset, with its beautiful different hues of colour shimmering over the Mediterranean.
Find all the available tours and activities here.
Catacombs (Kom El Shoqafa)
One of the biggest sights in Alexandria, since they were discovered totally by chance when a donkey fell into them. Considered one of the seven wonders of the middle ages, the catacombs consist of 3 levels and traces of Russian, Egyptian and Greek civilizations have been found in them. As you go down there are many elements of Greek civilization such as the most well known one of Medusa, the goddess of punishment. There are many impressive wall paintings and tombs. Price of entry 40 EGP normal and 25 EGP for students.
Pompey's Pillar
Pompey's Pillar is a Roman pillar of triumph and is the tallest pillar ever to be built outside the Roman and Byzantine Empires. Its height is 26,85m and has been constructed with Egyptian granite monolith Assuan, height 20,46 m. It weighs 285 tons. At these dimensions, it is one of the biggest ancient monoliths on earth ever created. In the surrounding area you can see various statues saved from ancient times, including some sphinxes. The cost of entry is 20 EGP normal and 15 EGP for students.
National Museum of Alexandria
It is inside a Renaissance building and is one of the most important museums in Egypt. Visitors have the chance to view the history and development of Alexandria from the time of the Pharaohs until today.
The house of Kavafi
The world renowned Greek poet Konstantinos Kavafis was born and lived the biggest part of his life in Alexandria. His house has been turned into a museum where one can view his poems and biographies.The original furniture was sold by his inheritors so new replicas from photos have been created.The cost of entrance was free but now is 15 EGP normal and students 5 EGP.
El Qaed Ibrahim Mosque
Famous for its tall minaret, El Qaed Ibrahim Mosque is one of the most popular mosques in Alexandria. Designed by an Italian architect it was constructed in 1948.
El Mursi Abu Al Abbas Mosque
Famous for its unique domes, El Mursi Abu Al Abbas Mosque is one of the oldest and most well known mosques in Alexandria.
Stanley Bridge
On the coastal front, Stanley Bridge is a really beautiful bridge to be photographed both during the day and lighted at night.
Shopping
At the bazaar Al Attarine Bazaar in the Al Attarine district you will find souvenirs and local crafts. On the long road Khalid Ebn El Walid you will find everything imaginable. A trip to Alexandria must include a trip to the bazaar! The prices are raised because everyone expects buyers to bargain for the product although they also hope some will be too embarrassed to.
For all the historical monuments and sites we mentioned above you have to pay at the entrance in Egyptian currency.
Activities and tours in Alexandria here.
Where to eat in Alexandria
Alexandria is famous for its seafood. Everyone recommends lunch or dinner in one of the seafront restaurants. Some of the most popular restaurants are the following:
Sea Gull: One of the most well known restaurants in Alexandria. A large range of seafood at very affordable prices and with speedy service in combination with a very beautiful sea view.
Fish Market: This is the shop we chose to have lunch in during our visit. There is a huge space with a view of the sea. We ate fresh fish together with some local sauces and local salads.
Roberto's Italian Restaurant: Very nicely decorated restaurant, albeit without a sea view. This is compensated for by the very affordable prices starting at 5€ and the very tasty food. Try the pasta Ravioli.
Holmes Burgers: For the burger lovers this is the shop you have been looking for. Burgers to drool over, for those who don't like seafood, for prices as low as 3€. There is a long menu and a lot of side dishes all at low prices.
Cafe Trianon: The place you will lounge at to enjoy your coffee and dessert, whilst at the same time taking in the opulence of old Alexandria. Once this cafe had a lot of Greek patrons and amongst them the most famous Alexandrian of all, the Greek poet Konstantios Kavafis. Finally, the most popular Alexandrian snack is Fresca. A wafer filled with honey and nuts. It can be found in many of the shops in the center, as well as with roaming vendors.
Useful Sites & Apps
In recent years whenever we plan to travel and even while we're travelling we have a choice of many apps which help us choose and distinguish what is best for our pockets. These sites have been chosen for having the most reviews and best places to stay. Of course there is a wide variety of such sites but below are our favourite.These are our suggestions:
With a plethora of places to choose from, adding bonuses to each traveller according to the trips and visits and bookings they've made and with very special offers, promo codes and immediate reductions for you and your friends. Start booking and discover all the offers. For available rooms and prices look here.
With over a million properties worldwide the variety and range is huge, ideal even for low budgeters visiting expensive destinations. Furthermore, as you will actually be staying in someone's villa or house, interacting with the host or independently, there is a more homely, cosy feeling to this kind of accommodation. For available rooms and prices check here.
Hotels.com
Signing up here is free and easy. I am recommending this choice because of their promotion system where you get one free night for every ten you stay at any hotel on their platform. The one free night will be applied as a discount to your stay having to pay for nine nights instead.
Trip Advisor
There isn't a single person on the planet who hasn't entered this site to read a review or recommendation about a place they want to visit. The largest travelling platform in the world with the possibility of reading millions of reviews, travel experiences and opinions which cover the needs of even the most demanding traveller. Read, compare, choose and visit.
Whatever you choose is a click away. Find the best offers from the best companies for trains, buses, planes, and ships. Travel to thousands of destinations, countries, cities in Canada, USA and Europe. We usually use this app when we are already abroad and would like to visit a neighbouring country. Check available routes here.
The first website that every traveller always checks. Instant and fast price comparison from airlines around the world. We love the "To any destination" filter, which shows us, all available flights sorted by price ( low – high), for the dates we have selected. The best solution for a last minute trip. Available flights and prices can be found here.
This is a site for all those who love visiting museums. All the available tours throughout the world gathered in one site by the hour and the day. Read carefully before booking in order to avoid any misunderstandings with the amenities and activities available at the time you want to go. We have tried this site many times travelling from Africa to America and Asia without the slightest problem. On this trip we used it to be transported from Cairo to Alexandria.
Rent a car at the cheapest prices. With a full service in more than 150 countries, with many offers and bargains and constant support in 12 different languages, with any specific requirements you might have.
Hotel Tonight
Here you will find last minute discounts on vacancies from hotels. This is an amazingly simple app and it doesn't take long to book a room.You may search in each town for sights and maps. Furthermore, you can check the reviews and photos of other travellers in order to be sure about the reliability of each hotel. It also has a 24/7 customer service. If you're stuck somewhere and you need a room desperately, this is the perfect app for you.
City Maps 2Go
Maps for travelling, hiking, mountain cycling and many other activities. A necessary app for every adventure, activity or touring abroad. You may only download one map per country, whereas it was possible to download two in the past. For an additional map you need to pay. Alternatively, as soon as you have looked at the information on a map you can delete it and then download a new one.
You can mark all the places of interest on the map you have downloaded. Whether they are sights, shops, or restaurants you can use the directions guide to get there. The great advantage to this app is that you don't need to have internet connection although it might get stuck a few times. Nevertheless, it is quite a reliable and useful app.
More information for the necessary travel documents, depending on your nationality and destination can be found here.