Traveling to mysterious Egypt, a country of great history, godly kings 'the pharaohs' and the Nile, revolving to one of the most ancient cultures of the world. You will be enchanted by the sun gazing on its endless golden sands, busy markets, and the magnificent Nile, the largest river in the world. In the traveller's guide below you will find all the information you need for your first visit to Egypt.
General Information
To enter the country you will need a Visa. For information on how to get one here.
The voltage in Egypt is about 220V, 50Hz and C/F plug type, (mostly used in Europe).
Egypt's coin is the Egyptian pound. If you want to see the current value of the Egyptian pound you may check XE Currency Converter.
There are 4 companies that provide phone service: 'Orange', 'Vodafone', 'Etisalat', and 'WE' by the Egyptian government telecommunications entity "Egypt Telecom". You may purchase a sim card for data once you arrive at the airport. Wi-Fi is not very advanced in most places. If you travel often you may get a 'surf/roam' sim card, which is recommended for global internet at a low cost and can be used in over 200 countries, including Egypt. For more info see here.
Regarding religion, 85-90% of the population follows Islam, of which very few are Sunnis and the remaining 10 to 15% are Christian.
Egypt is mostly desert, about 90%.
The 12 months, 365-day calendar we use today was invented in Egypt.
Its largest cities are Cairo, which is also the county's capital, Alexandria, Aswan, and Asyut.
Their national language is Arabic, and in large cities like Cairo and Alexandria, many people can speak English. Don't expect the most fluent speakers though.
Budget
Regarding accommodation in any destination, it is subject to one's preference, some of the most important factors are if you are travelling alone or with company and how much you are willing to spend. A good way to figure out all these options is provided by many platforms that are available today which we will mention in a bit in this article. We are going to go over a full range of options for everyone here.
Low-end budget: If you are a little adventurous and don't really care where you are going to spend the night and just want to see where the streets are going to take you there are options that start as low as $10 per night for a couple at cheap hostels in Cairo or in the broader area of Giza. They do not provide many facilities though and the bathroom is usually shared. There is also the option of getting an apartment at Luxor with a private bathroom with prices that don't much exceed $20 for a couple per night.
Low cost hostels can be found here.
Mid-range budget: For a mid-range budget around $25 to $79 the choices are plentiful. You can get a simple apartment in Cairo, pretty close to the center, for about $25, and for about $80 you can probably accommodate your whole family together.
High-end budget: Resorts can be pretty fair priced as well, there are many choices such as Sharm El Sheikh where prices start at $130 per night, including amenities like breakfast and pool access. Although some of the resorts can reach up to $700 per night for a suite for 3 people with all-inclusive.
Read our "Where to stay in Cairo" article here.
Traditional Food in Egypt
Kushari: Their most traditional dish is made from rice, pasta, lentils, garbanzo beans (or chickpeas), fried onion, and a tomato-based sauce.
Ful or Falafel: Ful is cooked fava beans, made in a few different ways, and falafel is garbanzo beans shaped into balls that resemble meatballs but are vegetarian. Usually served together.
Mahshi: Filled vegetables with hot rice and tomato sauce. Usually cooked in chicken or beef stock.
Hamam Mahshi: Filled pigeons or quail. As strange as it might sound a lot of people in Egypt enjoy this dish.
Kofta: Meatballs with vegetables.
EXTRA TIP: Do not drink tap water since it is high in chlorine content because of the pollution of the Nile. Use bottled water even to brush your teeth. You will notice even when you take a shower the smell of chlorine is pretty strong. When eating out even avoid soups with tap water because even though it is boiled there is still danger of poisoning.
PERSONAL FACT: Aliki got food poisoning on our last day from a soup she ate at a restaurant.
FUN FACT: Thankfully it was on the last day so we had already finished all the activities we wanted to do and because we were about to leave it didn't affect our trip very much.
Transportation
There are many options in regards to transportation in Egypt to make your stay more convenient. Some of them are:
Train: Connects the North to the South of the country. There are two main choices, with air conditioning or without. The first one is faster and comfortable, the second one is usually avoided by tourists because the trains have many stops, are dirtier and air conditioning is lacking.
Buses: Here choices are similar, we will also distinguish them as the ones with air conditioning and the ones without. Buses usually take longer because of the high traffic in the city and frequent stops.
Taxi: Taxis are faster than the buses and have different colours depending on the city they come from.
Metro: Is the fastest and most efficient way of transportation. Unfortunately, it is only available in Cairo.
Uber: Egypt also has Uber. It is considered one of the safest ways of transportation and the pricing is pretty fair since the prices are fixed. Available in Cairo, Alexandria, Hurghada, Mansoura, Tanda, and Damanhur.
Tuk Tuk: A three-wheeled vehicle known as auto-rickshaw. A cross between a motorbike and a wagon, or a small car. For the more adventurous available at the lowest prices.
Ferry: Connects Sharm El-Sheikh with Hurghada and Nuweiba with Tanda.
Nile Taxi: It is the newest transportation in the country and it is available at certain locations in Cairo. It is the fastest and safest way to move around efficiently.
Find bus and train routes here.
Best things to do in Egypt
Sharm El-Sheikh
City and Port of Egypt to the Red Sea which is a very popular attraction. This is because the city is next to the National Park Ras Mohamed, which attracts a lot of tourists and diving enthusiasts. You will find many resorts here.
Red Sea
Don't miss out on the opportunity to dive into the Red Sea. It has the most colourful and full of life coral reefs. You can enjoy snorkelling here and indulge in the crystal waters and the rich aquatic life below the surface.
Cairo
Capital of Egypt and the largest city of the Arab world and Africa. You should visit the Egyptian museum and see the mummies and the treasures of the pharaohs and Africa. As well as the famous Cairo Citadel of Salah Ad-Din.
To learn more about Cairo read our article here.
Available tours and activities in Cairo here.
Giza
The Giza Necropolis (city of the dead) is the main reason most people visit Egypt. Also the oldest and only one remaining out of the ancient seven wonders the world is still preserved here, the Great Pyramid of Giza also known as the Pyramid of Khufu or the Pyramid of Cheops. There are other sights in the area as well, like the Great Sphinx.
White Desert
Northwest of Cairo and National Park, white desert. It's white color derives from centuries of corrosion from the wind. Sandstorms have created large rocky formations that are quite impressive. White rocks, in funny shapes, can reach up to 17 feet tall, or even more. At night as the dessert seems like it's covered in snow due to the reflection of light. It is only accessible by 4×4 Vehicle or a Camel.
Luxor
It is considered the largest open museum in the world. The structures of the temples of Luxor and Carnak are literally inside the city. Across the bank of the Nile, you can find the Theban Necropolis, The Valley of Kings, and The Valley of Queens. Here over 60 pharaoh tombs can be found.
Nile
Don't miss out on the opportunity to take a mini-cruise on the river Nile. Ships are equipped with delicious local food and pretty belly dancing ladies to entertain you. There are still multi-day cruises available from Aswan to Luxor. For those who don't have much time, they can also just take a small trip to Felucca.
Alexandria
Alexandria was built by and named after Alexander the Great himself. A beacon of the Hellenistic ancient world, hosting one of the largest libraries ever built and its lighthouse ranking as one of the seven wonders of the ancient world. Both have been destroyed today, but there is a modern version of the library today and there is a lot more to see including the Catacombs of Kom El Shoqafa, also one of the seven wonders of the middle world, during the middle ages.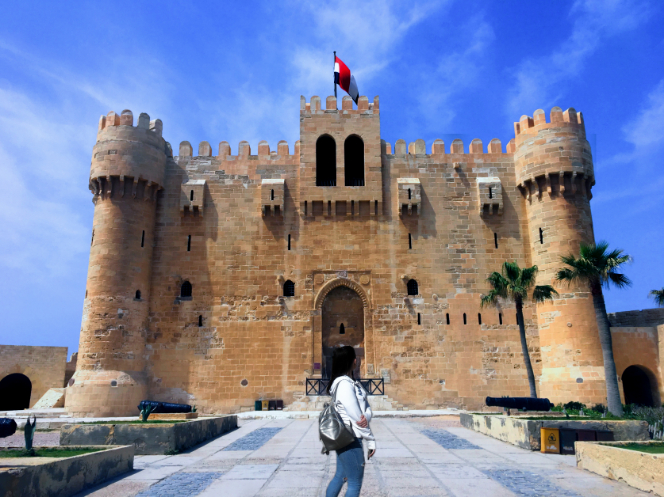 To learn more about Alexandria check our article here.
Packing Tips & When to go
Like anywhere else we are travelling our main purpose is to have fun, adventure and see where the road takes you. In order for no one to ruin it for us we need to be properly equipped.
Cotton clothes: Summers are generally very hot and dry, even in winter it can get really hot since there isn't a real winter like in countries north or south of the equator. So we recommend you wear cotton or linen clothes for maximum comfort.
Sunglasses and hat: Obviously. There is going to be sun always and everywhere all day, all the time so better be protected and better enjoy it than getting tormented by it.
Sunscreen or spf oil: Highly recommended when journeying under the hot sun in the desert all day, especially when you have many outdoor activities to attend to. Sunburns are very likely otherwise if you are not very tanned naturally or not wearing long sleeves.
Mosquito protection: Super necessary equipment for any traveller in Egypt. You will definitely need it especially if you are staying close to the Nile or even more if you are taking one of the cruises down the river; mosquitos love rivers and lakes.
Shoes: Because Egypt doesn't have a very crazy nightlife it's better to leave your fancy shoes at home. You will definitely need comfortable shoes because there is a lot of walking to be done.
Adapter: Good thing to have a plug adapter with you. If you travel often we recommend a travelling adapter. Some of them can transform and match almost any plug in the world.
Regarding when is the best time to visit I would say November to March. Temperatures are more bearable and you will be able to move around with less hassle. We personally chose to visit the country in December and we didn't regret it since the weather was pretty conducive and temperatures wouldn't go higher than 75°F.
Useful words
| | |
| --- | --- |
| Hi | Salam |
| Good morning | Sabah el Kher |
| Good evening | Masa el Kher |
| Thank you | Shukran |
| Please | Afwan |
| Yes | Naam |
| No | La |
Useful Sites & Apps
In the last few years we have been travelling we have singled out some applications, which we use before every trip or during it. We have chosen them over others for their validity, ease of use and variety in the options they have to offer. We describe below in detail what these are together with their characteristics.
Booking.com is a popular online booking platform for accommodations worldwide. With a vast selection of hotels, apartments, villas, and more, Booking.com offers travellers the convenience of finding and booking their ideal stay in just a few clicks. The site's user-friendly interface and extensive filtering options make it easy to narrow down search results based on specific preferences such as price, location, amenities, and more. As a result, Booking.com has become a go-to destination for travellers looking for hassle-free booking options. With competitive pricing and a loyalty program that rewards repeat bookings, Booking.com is a top choice for travellers seeking great deals and a seamless booking experience. For available rooms and prices look here.
Air Bnb
With more than a million properties around the world and still growing. A very popular choice for those looking for more affordable options even at the most expensive locations. Having the choice to pick an apartment or even a whole villa would make you feel more at home while you travel.
Hotels.com is a leading provider of hotel accommodation worldwide, offering booking services through its own network of localised websites. Once you reach 10 nights, you'll have a free night which you can apply at checkout. You can earn multiple free nights by continuing to book with Hotels.com, though. The platform gives travellers one of the widest selections of accommodation on the net, including both independent and major chain hotels as well as self-catering in over hundreds of thousands properties worldwide. The company offers a one-stop shopping source for hotel pricing, amenities and availability. Find the best deals here.
Direct Ferries is a multi-platform impartial ferry ticketing service offering a quick and easy way to look, compare and book 1000's of scheduled ferry crossings to virtually any ferry port in Europe with services also available throughout Africa, Asia, Australia, North America and South America. Offers the most comprehensive portfolio in the ferry transportation sector and a range of ancillary products from carefully selected partners including accommodation, train tickets and vehicle breakdown cover. Find the cheapest ferry tickets here.
Tripadvisor helps hundreds of millions of people each month become better travellers, from planning to booking to taking a trip. Travellers across the globe use the Tripadvisor site and app to discover where to stay, what to do and where to eat based on guidance from those who have been there before. With more than 1 billion reviews and opinions of nearly 8 million businesses, travellers turn to Tripadvisor to find deals on accommodations, book experiences, reserve tables at delicious restaurants and discover great places nearby. Find available offers and book your accommodation here.
Omio is a leading travel platform that helps you easily plan and book your trips. With a comprehensive network of trains, buses, and flights across Europe and beyond, Omio allows you to compare and choose the best travel options for your needs. Whether you're looking for a quick day trip or an extended vacation, Omio's user-friendly interface and competitive prices make it easy to create unforgettable travel experiences. Check available routes here.
Skyscanner is a leading global travel search engine, helping millions of travellers find the best flights, hotels and car rentals. With a user-friendly interface and powerful search technology, Skyscanner makes it easy to compare prices and options across hundreds of travel providers, giving you the best deals for your trip. From budget to luxury, domestic to international, Skyscanner has everything you need to plan your next adventure. So whether you're travelling for business or leisure, start your journey with Skyscanner and discover the world like never before. Available flights and prices can be found here.
GetYourGuide is an online marketplace for booking travel activities and experiences. With a wide variety of tours, activities, and attractions available in destinations around the world, GetYourGuide makes it easy to find and book unique experiences for your next trip. From city sightseeing tours and food and wine tastings to outdoor adventures and cultural experiences, GetYourGuide has something for every type of traveller. With a user-friendly website and mobile app, and a commitment to customer satisfaction, GetYourGuide is a top choice for travellers seeking memorable and authentic experiences. For available activities and tours check here.
DiscoverCars.com offers a hassle-free car rental booking experience, with a wide range of rental car options available worldwide. Whether you're travelling for business or pleasure, DiscoverCars.com offers competitive rates, 24/7 customer support, and flexible cancellation policies. With no hidden fees and a user-friendly interface, booking your rental car has never been easier. Choose from a variety of car rental options, including economy, luxury, and family-friendly vehicles, and enjoy the freedom of the open road on your next adventure. Book with DiscoverCars.com today and start exploring the world on your own terms!
Hotel Tonight
Here you will find last minute discounts on vacancies from hotels. This is an amazingly simple app and it doesn't take long to book a room. You may search in each town for sights and maps. Furthermore, you can check the reviews and photos of other travellers in order to be sure about the trustworthiness of each hotel. It also has a 24/7 customer service. If you're stuck somewhere and you need a room desperately, this is the perfect app for you.
City Maps 2Go
Maps for travelling, hiking, mountain cycling and many other activities. A necessary app for every adventure, activity or touring abroad. You may only download one map per country, whereas it was possible to download two in the past. For an additional map you need to pay.
You can mark all the places of interest on the map you have downloaded. Whether they are sights, shops, or restaurants you can use the directions guide to get there. The great advantage to this app is that you don't need to have internet connection although it might get stuck a few times. Nevertheless, it is quite a reliable and useful app.
EXTRA TIP
Once you have marked all the places you want to visit prior to your trip, you can also book your accommodation accordingly. This way you can be sure you'll be staying somewhere close to all places of interest.
iVisa.com is an online platform that helps travellers obtain electronic visas, eVisas, and other travel documents quickly and easily. With an extensive database of travel requirements for over 200 countries and a user-friendly application process, iVisa.com makes it simple for travellers to apply for and obtain the necessary documents for their trips. Whether you're planning a vacation, business trip, or other travel experience, iVisa.com can help you navigate the complexities of travel documentation with ease. More information for the necessary travel documents, depending on your nationality and destination can be found here.