Greece is the country we are proud to call our homeland. We consider ourselves lucky to live in a country that is full of civilisation, beautiful people, landscapes, flavours and its blue Mediterranean Sea. Its historical monuments, as well as Greek Mythology, are the reasons worth visiting Greece. The history of this small country is so rich that it will impress you. In addition to the magnificent Acropolis, there are so many other ancient temples worth visiting.
Apart from the famous islands of Greece and its wonderful beaches with clear turquoise waters, its mainland also has to offer equally incredible experiences. Rivers, waterfalls, lakes and endless mountaineering and hiking trails waiting to be discovered. But wherever you stay in Greece, the only sure thing is that you will be filled with Greek hospitality. The locals are willing to help you with whatever you may need, but also to make you feel like a king or queen. In regard to traditional food, we have dedicated an entire section below!
All this together with other elements that we will analyze below in our article, make Greece one of the most famous destinations in the world!
General information
Information for the necessary travel documents, depending on your nationality and destination can be found here.
The voltage in Greece is 220 V and the frequency is 50Hz. Socket types C, E and F.
The currency in Greece is the Euro with an exchange rate of 1 € = 1.15 USD. In order to be informed about the latest changes in currency please visit: XE Currency Converter.
It has several mobile phone companies, such as Vodafone, Cosmote and Wind. You can buy a sim card for data upon arrival at the airport. You can buy a surf-roam sim if you travel often. Used for global internet with very low charges and functioning in over 200 countries including Greece. For more information, look here.
Greece is the southernmost tip of the Balkan Peninsula.
It has 11 locations in the countries with the longest coastline, at 13676 km. The number of islands is estimated at 2500, with 165 to 266 being habitable.
The capital of the country is Athens. Other important cities are Thessaloniki, Patra and Nafplio.
Greek is the official language and the majority of the population also speaks English.
Budget
Those who visit Greece, usually choose to stay in Athens or on an island. But beyond the famous islands of the country, there are just as many unique locations on the mainland that stand out. In each place the accommodation options are enough and can cover all available budgets. There may also be price fluctuations depending on the season of your visit. Here are some typical examples:
Low budget: For those who are interested in a cheap room and do not care about room space. There are many options in every part of the country. A typical room in Athens can start from 20 € and can reach up to 70 €. The same prices apply to rooms in other locations such as Santorini, Crete or Meteora. They usually consist of dormitories with mixed rooms and a shared bathroom, but also rooms with private bathrooms and more facilities. Wi-Fi is free and not far from the main points of interest of your destination.
Low cost hostels for Athens can be found here.
Mid budget: For rooms with a private bathroom, within walking distance of tourist attractions, prices start from 80 € up to 150 € per night. Mid-range hotels also have private rooms or small suites, free Wi-Fi, restaurant and bar. In most, a free breakfast is included in the price and other free amenities can be found.
High budget: In the third part of accommodation we have luxurious experiences for those who want special attention and pampering during their stay. In this case the rooms start from 160 € and obviously exceed 800 € per night. These hotels are located in the center of the area, they have gyms, spa, swimming pools and everything else you need to make your stay unforgettable.
Book your transfer from/to the airport and ports of Athens here.
Traditional Food
Souvlaki: The most famous traditional dish of Greece and you can find it everywhere. It consists of pieces of cooked meat such as pork, beef and chicken, on a stick. It is usually accompanied by baked pitta bread, tzatziki or other sauces and french fries.
Tzatziki: One of the most popular accompaniments in Greece. It is a yogurt sauce with cucumber, garlic and dill. Chances are you have tried it in another country, as it is widespread worldwide, but it does not compare to what is served in Greece!
Greek salad: The most beloved Greek food! It is simple, fresh and available in every corner of the country. Fresh tomatoes, cucumbers, feta cheese, olives and oregano and olive oil are the ingredients of this favourite salad. Another dish that you may have tried in another country, but the fresh ingredients of Greece are unique!
Spanakopitta: Pie with spinach, feta cheese, onion and egg. The filling is wrapped in foil (filo pastry). It is a delicious dish for all hours of the day as a snack or as an accompaniment.
Moussaka: The traditional moussaka recipe consists of layers of stirfried eggplants and potatoes at the base, minced meat and on top béchamel and grated cheese. You can also find it without potatoes or the vegetarian version without minced meat. A dish that is worth trying for those of you who are in Greece. It is undoubtedly a dish that should be tried by anyone in Greece as it is considered one of the first and most famous traditional dishes of the country, and is very tasty.
Pastitsio: Some consider it a variation of moussaka. However, it is a separate dish, with thick spaghetti in the first layer, minced meat and béchamel on top. Another adored dish all over the country.
Kalamari: It is fried squid and is served in traditional taverns as an appetizer. It is usually accompanied by lemon and french fries and horta (boiled greens of the day).
Gemista: Stuffed vegetables, mainly tomatoes and peppers, with rice and spices. As a variation, many families fill the vegetables with minced meat as well. There are many different recipes for stuffing and different spices and herbs are used to add unique flavors.
Dolmadakia: This delicious dish is stuffed grape leaves with minced meat and rice. They are usually served as an appetizer.
Fresh fish: In any fish tavern you will try the freshest and tastiest fish! Fish from the Mediterranean and the Aegean Sea are tastier due to the salt content of the seas and are usually served whole, grilled, sprinkled with lemon, oil and oregano. Smaller fish are also tastier, such as anchovies, "marides" and sardines, and are served fried.
Top activities and tours for Greece here.
Transportation
Plane: There are several airports in Greece for domestic flights. In Athens is located the most famous airport (Eleftherios Venizelos). Busy airports are also located in Thessaloniki, but also on large islands, such as Crete, Mykonos, Santorini and Zakynthos. It is the fastest way of transportation, but at the same time the most expensive from the ones that we will list below.
Ferry Boat: The most enjoyable way to travel for us. With the ferry boat you can travel by sea and enjoy the Greek seas and the wonderful air. Your trip will be accompanied by seagulls and maybe you will even spot dolphins, diving in and out of the waves. There are many companies that serve different itineraries. The main port of Athens is that of Piraeus which connects you directly with the most famous islands of the country.
See all the available routes for Greek islands here.
Buses: Within the big cities there are buses that cover quite long distances and routes that will serve you to go to the place you want. Also, for those who wish to travel there is the KTEL that covers long-distance routes. Ticket prices vary depending on the route. It is one of the most economical ways to travel in the country.
Metro: In Athens, the capital of the country, the metro operates for your fastest underground transportation. The ticket per route costs € 1.20. This is a modern construction in Athens, where the itineraries are quite frequent and the wagons modern and clean. Also, there is a service to and from the airport, where the ticket price is 10 € / route.
Taxi: They exist in every city of Greece and are used for transportation within the cities, but also between them. What is special about taxis is that each city has its own colour in taxis. For example, in Athens they are yellow and in Thessaloniki they are grey. The minimum charge per route is about € 3
Private vans: The most private and deluxe transport in Greece. There are several companies that provide private vans for VIP travel, private tours and excursions. Seats start from 1-8 people in the Mini Van and up to 20 people in the Mini Bus. It may be more expensive, but it is a way to travel with more comfort
Rent a car and motorbike: The easiest way to get around Greece the way you want. Without programs and specific itineraries you can literally do what suits you. You can enjoy both the cities as well as the rural part of the country and nature by making as many stops as you want or choose the corresponding activities of your choice.
For availability and prices you can see here.
What to do in Greece
Athens
Athens, the capital of Greece, is one of the most ancient cities and is full of treasures. Anyone in Athens will definitely visit the Acropolis, one of the most important attractions of any civilization, and one of the seven wonders of the ancient world. Along with the tour of the Acropolis, many choose to visit the modern Acropolis Museum and then walk along the narrow streets of picturesque Plaka, which is situated right at the foot of the Acropolis and the Ancient Agora. We suggest you climb to the highest point of Athens, the hill of Lycabettus, where you will enjoy the view of the city.
Read what to do in Athens here.
At a very close distance from Athens, along the coastal road, on the cape of Sounio, is the Temple of Poseidon. This marble temple was built by the ancient Athenians to honour Poseidon and to guide sailors safely home. It would be better to visit the Temple of Poseidon, in the afternoon to catch the beautiful sunset, with the sun falling on the sea and offering you a spectacular view.
Book your activities for Athens here.
Greek Islands
The Greek islands are the main tourist industry of the country as well as the most well known worldwide. As we mentioned in the General Information the inhabitable islands of Greece are 165 to 266, and it is difficult to describe them all extensively. However, we will try to categorise them in groups of islands.
Cyclades: The Cyclades are located in southern Greece, between Athens and Crete. They consist of 39 islands, 24 of which are inhabited. The main features of this group of islands are their white-washed houses and churches with blue windows and doors. Their narrow, paved alleys, offering the ultimate Greek landscape, taken straight from a postcard image.
Santorini is definitely the most famous island of the Cyclades, mainly a destination for couples on their honeymoon. The most famous and most photographed places are Thira with the spectacular landscape of the island, perched way above the high cliffs and Oia. It's the most beautiful place to enjoy the sunset. One can also take a boat to the volcanic crater opposite which is no longer active, and which was responsible for a huge part of the island to sink. Some say this was the "lost Atlantis."
The next famous island is Mykonos. It is famous for the best cosmopolitan parties from morning to night, with the best DJs in the world. The most famous beaches are Psarrou and Super Paradise. An ideal island for holidays with your friends. The next well known islands of the Cyclades are Paros, Antiparos, Naxos, Milos, Kythnos etc. Each of them will offer you unique experiences and enchanting landscapes. Ios was also the birthplace of Homer.
Dodecanese: The Dodecanese islands are located southeast, between the Cyclades and the coasts of Turkey. With a different style from the Cyclades, these Greek islands stand out for their medieval architecture and their quiet beaches. The most popular islands are Rhodes and Kos, while Karpathos, Astypalea and Symi have also become famous in recent years.
Ionian Islands: Or the islands of the Ionian Sea, are located west of Greece and are beautiful islands with wonderful natural landscapes and lush vegetation. Their main features are the enchanting beaches with crystal clear waters, the imposing Venetian architecture and the stone paths. Zakynthos with its amazing beaches, such as that of the Shipwreck and the intense night life and Corfu, with its aristocratic atmosphere and beaches with golden sand will amaze you!
In Lefkada you will find beaches with golden and silver sand which you can reach by boat. In Paxos you will find a combination of white beaches, picturesque ports and a peaceful atmosphere. In Kefalonia you will discover one of the most famous beaches in the world with crystal clear waters, wonderful green landscapes and the magical lake of Melissani which is located inside a cave and invites you to experience a romantic boat trip. Ithaca, the island of Odysseus, has the most hospitable inhabitants, and is the ideal island for quiet and relaxing holidays. There are also quite a few seals in the clean waters and they even come to rest on the quiet beaches occasionally.
Sporades: The islands of the northern Aegean, which have a trademark of beautiful pine-covered beaches. These islands are Skiathos, the most cosmopolitan, the quietest Skopelos, Alonissos with its beautiful beaches and the sea parks of the monk seal Munich – Monks, and Skyros for its rare beauty. The Deep Blue was filmed years ago in Alonissos and Mama Mia was filmed in Skopelos. On top of the small island of Skyros is the grave of the poet Rupert Brooke, who died there during World War One.
Argosaronikos Islands: At a very short distance from Athens, the Argosaronikos islands have a frequent and daily connection with the port of Piraeus. The nearest island is Aegina, which attracts many visitors even for one day. Poros is a picturesque and quiet island with wonderful beaches. Hydra is unique as vehicles are prohibited, creating the ideal destination for escape from the stress of the city. The only way you can travel on Hydra is on foot or by horse or donkey, as the entire island is full of stone steps or wild, mountainous terrain. The entire island and its architecture are under the auspices of the Ministry of Civilisation. Finally, Spetses will win you over with its neoclassical buildings, green hills and tall pines but also the beautiful beaches and the cosmopolitan alleys.
Crete: We left the largest island of Greece last, as we consider it to be a separate category in itself. It offers stunning beaches to relax but also imposing mountainous peaks and gorges to discover. It is also known for its rich history, more specifically in Knossos and the Archaeological Museum in Heraklion you will be informed about the Minoan Civilisation. In Heraklion you may also visit the grave of Kazandzakis, one of the world renowned Greek writers.
For nature lovers, the Samaria Gorge is ideal, with a beautiful route that ends at the sea. Regarding the beaches, the most famous that are worth discovering are Vai, Balos, Elafonissi, Falasarna, Agiofarago, Chrissi and many more. Elafonissi is located in the southwestern tip of Crete, with incredible pink waters and turquoise sand, which unfortunately many tourists have not respected. Finally, do not miss the opportunity to experience the feast and fun of the Cretans either at a traditional wedding or at a festival!
Meteora
One of the most impressive landscapes in Greece is located northwest of the Thessalian plain, in the city of Kalampaka. The imposing rocks of Meteora were formed many centuries ago and exceed 600 meters in height. Many years ago monks found refuge on these rocks and founded one of the most important monastic communities in Greece. Today, there are 8 Holy Monasteries, of which 6 are in operation, 4 for men and 2 for women. What impresses the visitor, however, is how the buildings of the Monasteries were built so high and how they transport their food and supplies from one to the other, in baskets.
Meteora is a top travel destination in Greece, due to the impressive Paleolithic rocks with their steep peaks and the Byzantine monasteries with their rare frescoes and relics. Meteora has been declared a UNESCO World Heritage Site. Also, the wider area of ​​Antichasia belongs to the European ecological network NATURA 2000, as it has rare fauna and flora. Some of the activities you can do are to visit the Holy Monasteries (especially in the morning hours open to the public), hike the Meteora trail through the rocks and enjoy the panoramic view from the various points of the rock tops. We suggest you do not miss the opportunity to enjoy one of the most magical sunsets in Greece, as the sun sets and creates shades of orange and pink between the rocks.
Book your activities for Meteora here
Thessaloniki
Thessaloniki is the second largest city in Greece and its co-capital. The "Bride of Thermaikos" combines a rich multicultural history, hospitable locals and especially the vibes of the city are intense and at the same time relaxed. The first and main attraction is the White Tower which is open to the public today and visitors have the opportunity to enjoy an amazing panoramic view from the top.
Very important museums worth visiting are the Archaeological Museum of Thessaloniki, which displays our Macedonian culture from prehistoric times to later history, especially that of Alexander the Great and his vast empire. Furthermore, the Museum of Byzantine Culture presents a complete picture of the Byzantine Empire, which lasted for eleven centuries. The nightlife of the city is located in Ladadika, where among the neoclassical buildings you will find cafes, traditional taverns, bars and clubs. We also suggest you experience the rhythms of Thessaloniki through your along Nea Paralia, where the shops and the green theme gardens create a unique setting.
Halkidiki
A few kilometers from Thessaloniki, is Halkidiki with the three peninsulas, or otherwise the "feet" as the locals call them, Kassandra, Sithonia and Athos. Halkidiki combines blue and green for all tastes. First of all, the most famous and special beaches that are worth discovering are Poseidi, Kavourotripes, Mikro and Megalo Karydi, Kalogria, Kriopigi, Agios Mammas and Sani. On the beaches you have many options for water activities, to discover many hidden coves with a boat but also to camp.
Beyond the beaches, for mountain lovers, Halkidiki has many mountainous areas to discover. The whole peninsula is covered with pines, oaks, firs and chestnuts and there are many walking routes to enjoy. Mount Athos is a peninsula dedicated to monasteries, and incredible biodiversity.
Ancient Olympia
Ancient Olympia, or "valley of the gods" is one of the most powerful landmarks of world prestige as it is the place that gave birth to the Olympic Games. Visit the UNESCO World Heritage Site, the Archaeological Site of Olympia and walk amongst the ancient monuments which the Ancient Greeks used as places of worship, sports and conferences. For those who are in the Archaeological Site, we also recommend the Archaeological Museum of Olympia, with the most important ancient finds, such as the statue of Hermes of Praxiteles, the Victory of the Peony "Nike" and the sculptural decoration of the Temple of Zeus.
Also, do not miss the opportunity to discover the natural landscape of the Alpheus River and dive into the natural ponds formed by the waterfalls of Neda. For fans of activities this natural landscape provides many options, such as hiking, cycling, rafting, kayaking and kitesurfing.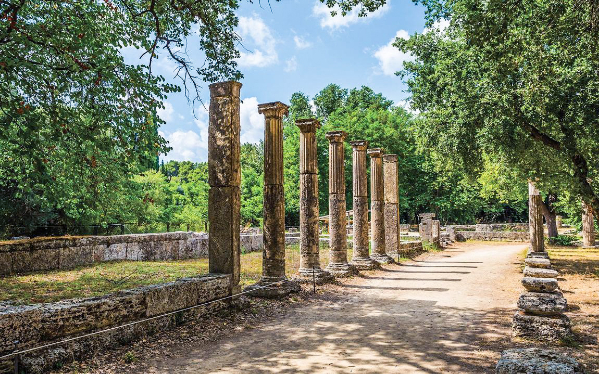 Delphi
One of the most important archeological sites in Greece, where the ancient oracle of Pythia and the Temple of Apollo are located. Delphi for the Ancient Greeks was a religious and spiritual center. Today Delphi is a UNESCO World Heritage Site, due to the importance of the unique archaeological and historical findings, but also the natural landscape at the foot of Mount Parnassos. It is also worth visiting the Archaeological Museum of Delphi. There you will have the opportunity to admire up close masterpieces of the ancient world.
Book your tour for Delphi here.
Mount Olympus
Olympus is a mythical mountain, connected with the mythology of Greece, because it was believed that the 12 gods lived there. With the highest peak in Greece, Mytika, and the beautiful natural beauty and landscapes, it attracts lovers of hiking and nature. More information for Olympus hiking read here.
Zagorochoria
One of the favorite mountain destinations in Greece, Zagorochoria offers picturesque landscapes and traditional villages. They are located in Northern Greece, 15 km from the city of Ioannina, the 5th largest city in Greece. A landmark of Zagori is the gorge of Vikos, not only for the Guinness record due to its morphology, but also because it is one of the most important ecosystems in Greece, with rare flora and fauna. More information about Zagorochoria, read here.
If you like adventures and extreme sports book your activities here.
Packing Tips& When to Go
Greece is a holiday destination for the whole year round. It is known for its warm climate with temperatures ranging from 10 to 40 degrees Celsius. It has the classic Mediterranean climate, where winters are mild and rainy and summers are hot and dry. Some of the basic items you should have with you are:
Summery light clothes: For both women and men, due to the high temperatures we recommend comfortable and airy clothes. With these you will avoid the unpleasant effects of humidity and it will be easier for you to enjoy your tours.
Hat and sunscreen: The absolute must-have for Greece! Most of the day you will be exposed to the sun, so you need to protect yourself from the sun's rays. You should have them with you, whether you are relaxing on a beach or taking a walk in the central parts of the country. With these you will be taking the appropriate precaution to avoid burns and annoyances that can ruin your vacation.
Swimwear: An integral part of your summer vacation, especially when you are visiting an island! And because one is not enough, take a lot with you! Many tourists walk around in their swimsuits even in the city center during the day.
Cardigan: The temperature may be quite high during the day, but in the evening in some areas the temperature drops and a cardigan or a light jacket is needed.
The high season of Greece is undoubtedly the summer and more specifically mid-June to mid-August. Those who come to the country at this time are making straight for the islands and its beaches, but also for the summer sun in combination with the aura of the Mediterranean. The same features, however, can be enjoyed in autumn and early spring. In autumn and spring you will achieve favourable weather with warm sun for excursions in the country, as well as cheaper hotel prices.
Useful words
| | | | |
| --- | --- | --- | --- |
| Hello | Γεια | Please | Παρακαλώ |
| Good morning | Καλημέρα | Yes | Ναι |
| Good night | Καληνύχτα | No | Όχι |
| Thank you | Ευχαριστώ | Παρακαλώ | You're Welcome |
Useful Sites and Apps
In the last few years we have been travelling we have singled out some applications, which we use before every trip or during it. We have chosen them over others for their validity, ease of use and variety in the options they have to offer. We describe below in detail what these are together with their characteristics.
Booking.com is a popular online booking platform for accommodations worldwide. With a vast selection of hotels, apartments, villas, and more, Booking.com offers travellers the convenience of finding and booking their ideal stay in just a few clicks. The site's user-friendly interface and extensive filtering options make it easy to narrow down search results based on specific preferences such as price, location, amenities, and more. As a result, Booking.com has become a go-to destination for travellers looking for hassle-free booking options. With competitive pricing and a loyalty program that rewards repeat bookings, Booking.com is a top choice for travellers seeking great deals and a seamless booking experience. For available rooms and prices look here.
One of the best, most trustworthy, and most convenient 5-star airport taxi companies for your airport transfer based on user reviews across various platforms such as Google, Tripadvisor, and Trustpilot. Welcome Pickups offers a great experience and safety to its travelers. Local English-speaking drivers, flat, pre-paid fee, flight monitoring for delays, 24/7 Customer support + free cancellation. Check your options here.
For ferry tickets to all of Greece as well as destinations like Italy and Turkey. Immediate service and cooperation with the largest services in Greece. Search available routes here.
Air Bnb
With more than a million properties around the world and still growing. A very popular choice for those looking for more affordable options even at the most expensive locations. Having the choice to pick an apartment or even a whole villa would make you feel more at home while you travel.
Hotels.com is a leading provider of hotel accommodation worldwide, offering booking services through its own network of localised websites. Once you reach 10 nights, you'll have a free night which you can apply at checkout. You can earn multiple free nights by continuing to book with Hotels.com, though. The platform gives travellers one of the widest selections of accommodation on the net, including both independent and major chain hotels as well as self-catering in over hundreds of thousands properties worldwide. The company offers a one-stop shopping source for hotel pricing, amenities and availability. Find the best deals here.
Tripadvisor helps hundreds of millions of people each month become better travellers, from planning to booking to taking a trip. Travellers across the globe use the Tripadvisor site and app to discover where to stay, what to do and where to eat based on guidance from those who have been there before. With more than 1 billion reviews and opinions of nearly 8 million businesses, travellers turn to Tripadvisor to find deals on accommodations, book experiences, reserve tables at delicious restaurants and discover great places nearby. Find available offers and book your accommodation here.
Omio is a leading travel platform that helps you easily plan and book your trips. With a comprehensive network of trains, buses, and flights across Europe and beyond, Omio allows you to compare and choose the best travel options for your needs. Whether you're looking for a quick day trip or an extended vacation, Omio's user-friendly interface and competitive prices make it easy to create unforgettable travel experiences. Check available routes here.
Skyscanner is a leading global travel search engine, helping millions of travellers find the best flights, hotels and car rentals. With a user-friendly interface and powerful search technology, Skyscanner makes it easy to compare prices and options across hundreds of travel providers, giving you the best deals for your trip. From budget to luxury, domestic to international, Skyscanner has everything you need to plan your next adventure. So whether you're travelling for business or leisure, start your journey with Skyscanner and discover the world like never before. Available flights and prices can be found here.
GetYourGuide is an online marketplace for booking travel activities and experiences. With a wide variety of tours, activities, and attractions available in destinations around the world, GetYourGuide makes it easy to find and book unique experiences for your next trip. From city sightseeing tours and food and wine tastings to outdoor adventures and cultural experiences, GetYourGuide has something for every type of traveller. With a user-friendly website and mobile app, and a commitment to customer satisfaction, GetYourGuide is a top choice for travellers seeking memorable and authentic experiences. For available activities and tours check here.
DiscoverCars.com offers a hassle-free car rental booking experience, with a wide range of rental car options available worldwide. Whether you're travelling for business or pleasure, DiscoverCars.com offers competitive rates, 24/7 customer support, and flexible cancellation policies. With no hidden fees and a user-friendly interface, booking your rental car has never been easier. Choose from a variety of car rental options, including economy, luxury, and family-friendly vehicles, and enjoy the freedom of the open road on your next adventure. Book with DiscoverCars.com today and start exploring the world on your own terms!
Hotel Tonight
Here you will find last minute discounts on vacancies from hotels. This is an amazingly simple app and it doesn't take long to book a room. You may search in each town for sights and maps. Furthermore, you can check the reviews and photos of other travellers in order to be sure about the trustworthiness of each hotel. It also has a 24/7 customer service. If you're stuck somewhere and you need a room desperately, this is the perfect app for you.
City Maps 2Go
Maps for travelling, hiking, mountain cycling and many other activities. A necessary app for every adventure, activity or touring abroad. You may only download one map per country, whereas it was possible to download two in the past. For an additional map you need to pay.
You can mark all the places of interest on the map you have downloaded. Whether they are sights, shops, or restaurants you can use the directions guide to get there. The great advantage to this app is that you don't need to have internet connection although it might get stuck a few times. Nevertheless, it is quite a reliable and useful app.
EXTRA TIP
Once you have marked all the places you want to visit prior to your trip, you can also book your accommodation accordingly. This way you can be sure you'll be staying somewhere close to all places of interest.
iVisa.com is an online platform that helps travellers obtain electronic visas, eVisas, and other travel documents quickly and easily. With an extensive database of travel requirements for over 200 countries and a user-friendly application process, iVisa.com makes it simple for travellers to apply for and obtain the necessary documents for their trips. Whether you're planning a vacation, business trip, or other travel experience, iVisa.com can help you navigate the complexities of travel documentation with ease. More information for the necessary travel documents, depending on your nationality and destination can be found here.
Find a city's hidden gems & cool places directly from the people who know it best. Keep local travel ideas in your pocket. Simply choose your list of cool places & click 'download' on the confirmation screen after checking out. The link will open in Google Maps. Hit 'follow' and save it for later. Download the Ultimate Greece Travel Guide here.