Phuket is Thailand's largest island and you will love it as soon as you step foot on it. This island is a small paradise with a variety of choices which will keep you entertained. The endless stretches of beaches, their white sand, the turquoise waters and the colourful sea life, make it one of the best beaches worldwide. Apart from Phuket, however, there are 33 islands all around to discover, each one offering something unique.
In Phuket you will also live the life and culture of Asian civilisation. You will taste many different dishes. You will see the imposing but adorable elephants from close up and you will walk through the tropical forests. These are only a few of the things you can do on the island.
In our traveller's guide below, you will find all the necessary information for your first visit to Phuket.
General Information
Phuket is one of the southern provinces in Thailand, and the largest in the Andaman sea.
The name Phuket is derived from the Malaysian word "bukit", which means hill, which is the shape of the island from a distance. In the past, it was named "Talang", derived from an older Malaysian word which means cape.
Before the island was transformed into a tourist destination, it derived its wealth from tin mines and rubber productions.
There was quite a lot of destruction from the tsunami in 2004. The death toll in Phuket reached 250 (tourists and locals). Parallely, a lot of seaside resorts and villages in the southern part of the island were destroyed.
The majority of the population are Buddhists whereas 20% are Muslims.
It is the only island in Thailand which is connected to the mainland by two bridges. The Sarasin bridge (which is used by pedestrians only) and the Thepkasattri bridge, which is used by cars only.
You will find more information about Thailand in our article here.
Transportation
Transportation from the airport
Taxi Meter: This is the biggest taxi company in Phuket. You can easily spot their stalls as soon as you emerge from the airport, which are open 24/7. There is an extra cost of 100 ΤΗΒ which are added to the metre because of the airport route. The cost of the route from the airport to Patong beach is 600 ΤΗΒ + 100ΤΗΒ (end of the airport).
Minibus: The common minibus is the most economical solution, as the price is about 200 THB per person. The only disadvantage is that it takes more time to reach your hotel. You have to wait for the bus to fill up, which can take up to 10 passengers. If you are unfortunate enough to have your hotel last on the list, they will have to drop off every other passenger before you. They are, however, fast and reliable.
Airport Bus: The Airport Bus of Phuket is the oldest means of transport. Most don't prefer it as its only route is from the airport to the old terminal in the town of Phuket. The fare is only 100 THB and lasts 1.30 hrs as the bus makes 8 stops along the way. The airport bus leaves from 5am until 7pm from the old bus terminal of Phuket (near the hotel Royal Phuket City).
For cheap in-city rides or airport transfers check here.
Transportation within the town
Tuk Tuk: One of the easiest ways to get around Phuket, is to get on a Tuk Tuk. This is the most popular means of transport in Asia. The Tuk Tuk are motorized two-wheelers, with open sides, so that one may take in the picturesque scenery and feel the plentiful fresh air. They are to be found everywhere in Thailand and you will never find it difficult to get a ride. We only suggest that you make sure the driver has understood where you want to go. Also check that he has a genuine license before you set off. We recommend it for short distances, as its small size makes it too inconvenient for rides longer than half an hour.
Taxi: Taxis with taxi meters are expensive, but sometimes cheaper than the Tuk Tuk. The cost is around 50 ΤΗΒ for the first 2 kilometers and 8 ΤΗΒ for every extra kilometer. Make sure, once again, that the driver has understood where you want to go and that the taximeter is running, otherwise you will be charged much more.
Grab: It is the Uber of Thailand. This app is a safe way of getting around. The price is set and you will be notified if the driver is taking a roundabout route. The prices are sensible, maybe cheaper than the taxi, and you come into contact with the locals. If you are lucky and they speak English they will offer you advice as to the best places to visit and where to eat. From Patong to Karon the price is around 202 THB. From Kata beach to Karon it is 118 THB.
Bus: There are small local buses. They connect the old town of Phuket with the largest and most well-known beaches, such as Patong and Karon. These are relatively slow, due to the many stops, but they are cheap and trustworthy. Find bus routes here.
Motorbike: In order to have more freedom we suggest you hire a motorbike. Especially if you are a couple or travelling solo. There are various rentals in town. You can also hire through the hotel/hostel reception where you are staying. However, you have to drive carefully in the streets of Phuket.
Songthaew: Songthaews are covered trucks which have been transformed into vehicles which carry many passengers. There are two wooden planks on the left and right which serve as seating. There are no predefined stops, so you have to make sure from the start that it is taking you where you want to go. Usually there is a sign on every songthaew with the final destination. Here you can bargain the price, whilst a ride usually starts at 25-50 THB. The ride from Patong to the airport costs 1000 ΤΗΒ, and for the other beaches 500 ΤΗΒ.
Organize your private boat tour for Phuket and Phi Phi islands here.
Best things to do in Phuket
Patong
The most touristic place in Phuket. Full of frequented beaches, resorts, shops, bars and, unfortunately, many tourists who are interested in the sextourism the area offers. If you don't wish to experience the noise of this crowded place, try to avoid this beach. If, however, you wish to experience the nightlife of Phuket, take a stroll along Bangla Road. There you will find many shops, bars, clubs, and many "girls" and "ladyboys" putting on their shows.
As for the beach part of Patong, opinions differ. Some believe it is the ideal beach for the perfect tropical experience. Due, however, to overcrowdedness, most avoid it, as there are too many vendors and jet skis, and absolutely no peace and quiet. There are far better beaches around, such as Hat Karon, Surin and Mai Khao beach.
Big Buddha
This huge Buddha is one of the most famous sights of Phuket. Its height is 45 meters. It is made of white Burmese marble (which shines in the sun) and can be seen from many parts of the island as it is situated on top of Nakkerd hill. From the top of the hill you can enjoy the panoramic view of the island. Entry is free, even though some choose to leave a "present". At the entrance, if you are not decently dressed, they give you special clothes so you may enter the area.
Phang Nga Bay
Whoever visits Phuket should not fail to visit the unforgettable Phang Nga Bay. This area is full of lagoons and caves. Its most unique feature are the imposing limestone rocks which protrude vertically from the turquoise waters. The James Bond island (or else Khao Phing Kan ) and the fishing village Koh Panyee are only 2 of the many famous sights in the area. We therefore suggest that you book your tour by boat as early as possible in order to avoid the crowds of tourists. These tours offer various stops for snorkeling and swimming. There are many shops in Phuket from which to choose the tour which best suits you.
The old Town
Many are those who turn towards the sunny roads of Patong. However, we suggest a genuine experience of Phuket, which is visiting the old town. The charm of this place is reminiscent of the old times of Phuket. It's served as one of the most important trading routes between India and China. Here, you will see the wonderful combination of Chinese and colonial architecture with beautiful, colourful mansions, various shops, restaurants and small bars.
Bonus Tip: Do not forget the event Phuket Walking Street which is organised every Sunday on Thalang Road. It attracts thousands of visitors, creating a lively and entertaining evening.
Diving
One of the main activities for families, couples but also those travelling alone, is exploring the sea depths. There are many opportunities to go snorkeling and scuba diving. On many of the beaches of Phuket, you can hire a snorkel and flippers to explore the sea. Alternatively, there are many scuba diving centers, where you can book your tour and spend the entire day exploring the sea depths. At the centres you can book your scuba diving, even if you don't have a license. The crystal clear waters, together with the colourful sea life, renders Phuket one of the best places in the world for diving.
Bonus Tip: For the full scuba diving experience we suggest you visit the Similan islands. Daily excursions are organised to this national park, which is considered the best place for scuba diving in all of Thailand.
Elephant Shelter
In Thailand there is a serious problem with tourists who come for the elephants. Elephants throughout the country have been terribly abused for the sake of tourism and logging over the years. The famous elephant ride (elephant trekking) causes serious back problems to the elephants and the animals are abused on a daily basis by their owners in order to make a profit.
Thankfully, things have started to change, as most tourists are beginning to avoid the elephant rides. Visiting an elephant shelter is definitely one of the most fun things you can do in Phuket. Here you can come into contact with the animals in a caring, moral way as you learn all about them. There are no elephant rides here, which is the right thing. There are many shelters in Phuket, but make sure you have chosen a legal company which cares for its animals. Elephant Jungle Sanctuary, Phuket Elephant Sanctuary and Treetops Elephant Reserve are three of the best shelters in Phuket.
The elephants are one of the reasons we travelled to Phuket. We chose Elephant Jungle Sanctuary and we were really enthusiastic to have this experience. When we arrived they described to us everything about the Asian elephant. Also they gave us useful information about their lives and how these animals have been saved. We were then given instructions as to how to feed them and there we witnessed these magnificent, calm animals. Later, we had the opportunity to walk (next to them not on them) into the jungle and bathe them. We also had the opportunity to see two small baby elephants which were just a little taller than us, but still very cute. It was an unforgettable experience and we strongly recommend it to anyone travelling to Phuket.
Muay Thai
The national sport of Thailand is Muay Thai, and you mustn't fail to see a genuine, local match. While you are in Phuket you will see many ads for a Muay Thai match. These ads, however, are mostly for tourist shows. If you want to see a genuine match, you should go to Patong Boxing Stadium.
Matches are held every Monday, Thursday and Saturday night. The place is always packed with tourists and locals. You may also enter the ring if you wish, and they even offer lessons in Muay Thai. Even if you are not interested in Muay Thai, the training is a very good way to keep fit. It is customary while watching the match to consume Pad Thai soup and drink Chang beer.
Touring the Budhist Temples
Once you have chosen to leave your beach chaise longue, we recommend experiencing the cultural/religious aspect of the island! An excellent choice for a dose of Thai culture is to spend a day discovering the temples, of which the greatest variety are in Phuket.
The most important and impressive temple on the island is definitely the Wat Chalong Temple. It is situated in a really calm and peaceful environment in the heart of Phuket. It is one of the most important historical landmarks in Thailand and continues to play an important role in the lives of the locals. There are many buildings to see in Wat Chalong Temple, but the most important is the beautifully decorated pagoda, «Cedhi», housing a fragment of a Buddha bone. Do not fail to go up to the verandah of the last floor of Cedhi, to enjoy the spectacular view of the entire temple area.
Bonus Tip: According to Buddhist practice one must remove their shoes before entering a temple, so choose shoes which can come off easily while visiting this sacred place of prayer.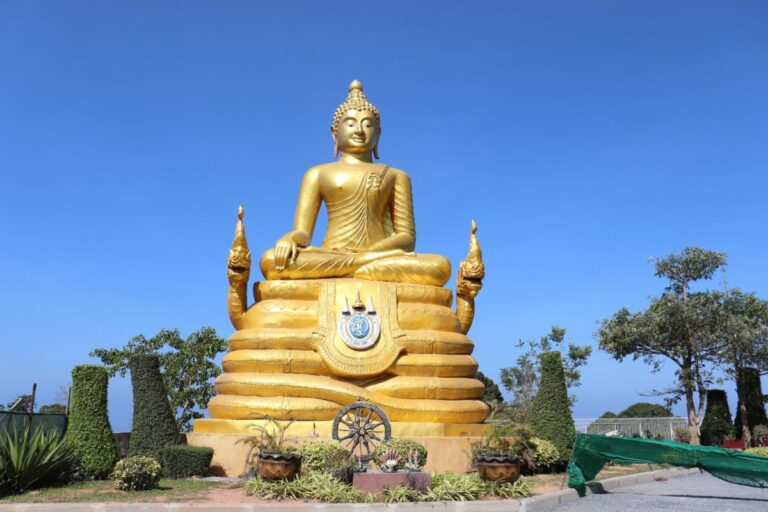 Thai Spa
Thailand is well known for its cheap spa services. The massage services include Thai massage, after sun massage with coconut oil, head and neck massage and manicure. They are literally everywhere-side by side. It is impressive how saturated and touristic the spas are in Phuket. We suggest you take advantage of the competitive prices.
Karon Viewpoint
As we mentioned in the general information above, the word Phuket means hill, and yes, the island is a hill! The advantage of this is that there are many high points from which one can enjoy the entire view of the island. The most famous one is Karon viewpoint. Here you can enjoy the panoramic view, with the three beaches/bays of northern Phuket. The view of the sea Andaman on the other side, in combination with the lush jungle vegetation all around will more than compensate you.
Thai-Food Lessons
Phuket has so many places which offer Thai-Food lessons that it's definitely worth having one lesson while you're there. By taking one lesson you will learn about the ingredients, as well as acquire useful skills to continue your cooking when you return home. Many places offer breakfast or evening packages, or food the entire day and you can always eat whatever you have cooked.
Beaches
Whilst most people end up visiting the main beaches of Phuket, there are so many other places worth visiting and exploring as this is a large island. Apart from the crowded tourist beaches Karon, Patong and Kata, you could rent a motorbike or a car) and discover a quieter beach.
The beautiful beaches Banana, Kata Noi, Nai Thon and Surin, are some of the alternative choices. Avoid the roaming vendors and the organised beach bars. Instead lay your towel under a tree and enjoy quiet beaches with beautiful waters.
Phi Phi Islands
Book a day on the exquisite Phi Phi islands. Explore the beautiful view and crystal waters, the green, picturesque surroundings, the caves, etc. A few of the places we recommend visiting are Maya Bay, Monkey Beach with monkeys running around the entire beach, Bamboo Island with the whitest sand and turquoise waters and also a walk along Phi Phi Doh. For information concerning routes and prices please check here.
More information on the Phi Phi islands may be found here.
Where to eat in Phuket
Due to increased tourism in Phuket there is a huge choice of restaurants. You will definitely find the usual fast food chains and so many other different restaurants side by side that you will have a hard time choosing. Below, we recommend the best local restaurants where you will be sure to taste genuine Thai food.
Night Markets
If you want to try genuine Thai food, you should visit one of the island's night markets. Here you will find stalls with a huge variety of foods to try.
One Chun Cafe & Restaurant
One of the best and most popular restaurants in the Old Town. It combines high food quality with a beautiful interior. One Chung offers a variety of Thai dishes and is an old mansion with vintage decoration which has received many good reviews.
Black Ginger Restaurant, The Slate
If you are looking to have a romantic dinner in Phuket, choose the restaurant Black Ginger, which is in the Slate hotel on Nai Yang beach on the northern coast. The interior will amaze you, but its most unique feature is the lagoon surrounding it. The cuisine is exquisite and the service is excellent.
Piang Prai
Piang Prai (Krua Piang Prai) is an excellent local restaurant which is situated in a green nest, right next to the Bang Pae waterfall. Completely unknown to tourists due to its remote location. Piang Prai is one of the two most wonderful places to have lunch if you happen to be there (the other restaurant is Bang Pae Seafood.) Both are really worth visiting just for the food.
Ketho Coffee & Kitchen
The best choice for breakfast! For coffee lovers there is a huge variety of coffee bars with professional baristas. There are sandwiches, cakes, croissants, English breakfast and a few Thai dishes. The interior is a combination of contemporary design with quite a lot of plants, creating the ideal atmosphere for you to gather your strength at the beginning of the day. We suggest you come early as the place fills up fast.
Low cost hostels for Phuket can be found here.
When to Go
Phuket has a welcoming, tropical climate, which from warm can suddenly become cool and rainy. The temperatures are high most of the time, but on the days they fall it is cold, with quite a lot of dampness.
The Monsoon period starts from Mid May till the end of October. Nevertheless, quite a few choose to travel during this period in order to experience the full exotic climate of this place. It is the most suitable and quiet period for visiting Phuket and its museums, in beautiful rainy weather.
On the other hand, the most tourist season in Phuket is from November until February. During this period, the days are sunny without a drop of rain, rendering it an ideal period for enjoying the beaches, visiting the sights, hiking, and any other activity Phuket can offer.
Useful Sites & Apps
In the last few years we have been travelling we have singled out some applications, which we use before every trip or during it. We have chosen them over others for their validity, ease of use and variety in the options they have to offer. We describe below in detail what these are together with their characteristics.
Booking.com is a popular online booking platform for accommodations worldwide. With a vast selection of hotels, apartments, villas, and more, Booking.com offers travellers the convenience of finding and booking their ideal stay in just a few clicks. The site's user-friendly interface and extensive filtering options make it easy to narrow down search results based on specific preferences such as price, location, amenities, and more. As a result, Booking.com has become a go-to destination for travellers looking for hassle-free booking options. With competitive pricing and a loyalty program that rewards repeat bookings, Booking.com is a top choice for travellers seeking great deals and a seamless booking experience. For available rooms and prices check here.
One of the best, most trustworthy, and most convenient 5-star airport taxi companies for your airport transfer based on user reviews across various platforms such as Google, Tripadvisor, and Trustpilot. Welcome Pickups offers a great experience and safety to its travelers. Local English-speaking drivers, flat, pre-paid fee, flight monitoring for delays, 24/7 Customer support + free cancellation. Check your options here.
Air Bnb
With over one million properties all around the world, and always increasing. Ideal for a low budget stay even in expensive areas. Furthermore, because you stay in people's villas, houses or flats you are made to feel more at home by the host of each destination and the homely surroundings.
Hotels.com is a leading provider of hotel accommodation worldwide, offering booking services through its own network of localised websites. Once you reach 10 nights, you'll have a free night which you can apply at checkout. You can earn multiple free nights by continuing to book with Hotels.com, though. The platform gives travellers one of the widest selections of accommodation on the net, including both independent and major chain hotels as well as self-catering in over hundreds of thousands properties worldwide. The company offers a one-stop shopping source for hotel pricing, amenities and availability. Find the best deals here.
Direct Ferries is a multi-platform impartial ferry ticketing service offering a quick and easy way to look, compare and book 1000's of scheduled ferry crossings to virtually any ferry port in Europe with services also available throughout Africa, Asia, Australia, North America and South America. Offers the most comprehensive portfolio in the ferry transportation sector and a range of ancillary products from carefully selected partners including accommodation, train tickets and vehicle breakdown cover. Find the cheapest ferry tickets here.
Tripadvisor helps hundreds of millions of people each month become better travellers, from planning to booking to taking a trip. Travellers across the globe use the Tripadvisor site and app to discover where to stay, what to do and where to eat based on guidance from those who have been there before. With more than 1 billion reviews and opinions of nearly 8 million businesses, travellers turn to Tripadvisor to find deals on accommodations, book experiences, reserve tables at delicious restaurants and discover great places nearby. Find available offers and book your accommodation here.
Omio is a leading travel platform that helps you easily plan and book your trips. With a comprehensive network of trains, buses, and flights across Europe and beyond, Omio allows you to compare and choose the best travel options for your needs. Whether you're looking for a quick day trip or an extended vacation, Omio's user-friendly interface and competitive prices make it easy to create unforgettable travel experiences. Check available routes here.
Skyscanner is a leading global travel search engine, helping millions of travellers find the best flights, hotels and car rentals. With a user-friendly interface and powerful search technology, Skyscanner makes it easy to compare prices and options across hundreds of travel providers, giving you the best deals for your trip. From budget to luxury, domestic to international, Skyscanner has everything you need to plan your next adventure. So whether you're travelling for business or leisure, start your journey with Skyscanner and discover the world like never before. Available flights and prices can be found here.
GetYourGuide is an online marketplace for booking travel activities and experiences. With a wide variety of tours, activities, and attractions available in destinations around the world, GetYourGuide makes it easy to find and book unique experiences for your next trip. From city sightseeing tours and food and wine tastings to outdoor adventures and cultural experiences, GetYourGuide has something for every type of traveller. With a user-friendly website and mobile app, and a commitment to customer satisfaction, GetYourGuide is a top choice for travellers seeking memorable and authentic experiences. Book your activities and tours for Phuket here.
DiscoverCars.com offers a hassle-free car rental booking experience, with a wide range of rental car options available worldwide. Whether you're travelling for business or pleasure, DiscoverCars.com offers competitive rates, 24/7 customer support, and flexible cancellation policies. With no hidden fees and a user-friendly interface, booking your rental car has never been easier. Choose from a variety of car rental options, including economy, luxury, and family-friendly vehicles, and enjoy the freedom of the open road on your next adventure. Book with DiscoverCars.com today and start exploring the world on your own terms!
Hotel Tonight
Here you will find last minute discounts on vacancies from hotels. This is an amazingly simple app and it doesn't take long to book a room. You may search in each town for sights and maps. Furthermore, you can check the reviews and photos of other travellers in order to be sure about the trustworthiness of each hotel. It also has a 24/7 customer service. If you're stuck somewhere and you need a room desperately, this is the perfect app for you.
City Maps 2Go
Maps for travelling, hiking, mountain cycling and many other activities. A necessary app for every adventure, activity or touring abroad. You may only download one map per country, whereas it was possible to download two in the past. For an additional map you need to pay. Alternatively, as soon as you have looked at the information on a map you can delete it and then download a new one.
You can mark all the places of interest on the map you have downloaded. Whether they are sights, shops, or restaurants you can use the directions guide to get there. The great advantage to this app is that you don't need to have internet connection although it might get stuck a few times. Nevertheless, it is quite a reliable and useful app.
EXTRA TIP
Once you have marked all the places you want to visit prior to your trip, you can also book your accommodation accordingly. This way you can be sure you'll be staying somewhere close to all places of interest.
iVisa.com is an online platform that helps travellers obtain electronic visas, eVisas, and other travel documents quickly and easily. With an extensive database of travel requirements for over 200 countries and a user-friendly application process, iVisa.com makes it simple for travellers to apply for and obtain the necessary documents for their trips. Whether you're planning a vacation, business trip, or other travel experience, iVisa.com can help you navigate the complexities of travel documentation with ease. More information for the necessary travel documents, depending on your nationality and destination can be found here.