Poland! The country of Central Europe that has gone through a lot, yet managed to be completely reborn. Picturesque villages, well-preserved medieval towns, historic sites, enviable natural landscapes and finally, delicious local cuisine full of aromas and flavors. Some of the above are the reasons why you will definitely not regret your trip to Poland. And all this in combination with quite low prices. Below you will find all the information you need before your first trip to Poland, based on our personal experiences.
General Information
You can travel to Poland with your ID if you are European. More information for the necessary travel documents, depending on your nationality and destination can be found here.
The voltage in Poland is 230V and the frequency is 50Hz. C / E socket types.
If you travel often you can buy a surfroam sim. You can use global internet with very low charges and use in over 200 countries including Poland. For more information, look here.
The currency of Poland is the Polish Zloty. To stay informed about currency exchange changes visit: XE Currency Converter.
The largest city and capital of the country is Warsaw, followed by other major cities such as Krakow, Poznan and Gdansk.
The population of the country is just over 38 million inhabitants.
The predominant religion of the state is Roman Catholicism and the official language is Polish.
Budget
The issue of accommodation at a destination, as we have mentioned before, is something subjective. Each of us can travel either alone or with friends. We all have separate selection criteria and obviously a different budget. However, the platforms that now exist are listed in the continuation of the article, with innumerable options for all types of travellers, providing a solution to all the above. The list of travels are mostly for Krakow and Warsaw. Indicatively, we give an overview of accommodation in Poland below.
Low budget: Initially, as in every article, we have the part of the cheapest option, which is usually a hostel. In Poznan one can start our stay from just 3 € in a hostel with shared bathroom. While respectively this price can climb to higher levels from 11 € up to 15 € for a hostel in Warsaw and Krakow. As usual in this part of the accommodation do not expect high amenities, as it is recommended for people who are only interested in the outdoor part (adventure, excursions and activities) and all they want is a bed to rest on at night.
Available hotels and offers can be found here.
Mid budget: In the middle part there are relatively many options for everyone. Prices here are relatively low. In Poznan a 3 star apartment starts from just 16 € per couple per night. In Warsaw and Krakow respectively prices start at € 19 and go up. In Gdansk you can find a 3 star hotel for € 43 with breakfast and all taxes included.
High budget: The last category is clearly for those who want to enjoy their stay in each country. In Poland this luxury is quite affordable. A room in a 4 star hotel starts from just € 37 in the Warsaw area, while the 5 star Radisson Blu hotel in Gdansk is just from € 67. However, for even the most demanding, there are corresponding options such as the Intercontinental in Warsaw where a night in a suite starts from € 200 and goes up.
Traditional Food
Polish dishes are famous mainly for their meat. However in the capital in particular, there are now many vegetarian and vegan options. Below you will find some of the most typical recipes in the country that are worth trying:
Bigos: Includes a variety of meats, accompanied by sauerkraut, fresh cabbage and prunes, mushrooms and various spices. It is considered one of the most traditional dishes in Poland.
Pierogi: One of the most famous Polish dishes that is traditionally served at Christmas. They are pasta filled with various ingredients such as meat, cabbage, mushrooms and seasonal fruits (cherries, strawberries, blueberries) and cottage cheese or boiled potatoes with fried onions.
Gulasz: The well-known soup that can be found in Hungary or Romania. However in Poland the recipe has some variations. This is meat that has been cooked in a pot and served with potatoes and vegetables, while the garnish may include fried peppers and onions.
Rosól: One of the most common soups in Poland. Contains chicken, onion, leek, celery, cabbage and various spices. It is usually served with noodles.
Golabki: Something similar to our cabbage stuffing. Traditional dish made with minced pork, rice, onions and mushrooms which are wrapped in white cabbage leaves. Depending on the area you can find various fillings such as lamb or chicken stuffing or even without any meat.
Makowiec: Cake made from dough and filling with poppy seeds. You can also use dried fruits (such as oranges that are often used) and nuts of your choice. They believe that poppy seeds ensure joy and happiness and respectively ward off evil spirits. This is the reason why it is used in this Christmas sweet.
Szarlotka: Recipe corresponding to our apple pie that you will find in many sweet shops. There is also a fridge apple pie with cream and cookies that is much more impressive and delicious than the simple apple pie we all know.
Transportation
Buses: There are buses that can serve both local routes within cities, as well as in the provincial part of the country. There are also the well-known Flix bus / Polski buses used for travel between cities in Poland and for some routes can be even faster than trains. Transportation by bus is also useful in areas and villages where there is no train connection. More information to organize your itineraries, price analysis and availability can be found here.
Taxis/Uber: Taxis are relatively cheap in Poland and you will not face any particular problem. Pay attention to the well-known issue about taximeters and their operation, because unfortunately crooks are everywhere. However, in Poland in the capital and other major cities, you can also use the well-known Uber application. This helps you to better organize your route and know the cost in advance, without any surprises.
For in-city rides and airport transfers check here.
Car Rental: The classic way to get around the country the way you want. Without expectations and specific itineraries you can literally do what suits you. You can enjoy both the cities as well as the rural part of the country and nature by making as many stops as you want or the corresponding activities of your choice. For availability and prices you can see here.
Airplane: The fastest (albeit not that economical) way to cover the longest distances within the country. Itineraries are quite frequent and serve all major cities as well as smaller ones. For example, a flight between the capital Warsaw and Krakow can start at € 40, while for the same train it can start at € 22.
Train: The network in Poland is quite developed and both domestic and international services are served daily. Prices are relatively affordable in both cases. For all available destinations and prices you can find more information here.
Boat trips: In some rivers and canals of Poland during the summer season, it is possible to organize such a walk – a mini cruise.
Bicycle: Most of the country is flat which favors conditions for cyclists. There are bicycle shops in all major cities and you can easily rent the corresponding equipment with great flexibility and affordability. It is advisable to avoid large roads with traffic and to plan routes on correspondingly smaller roads. It is one of the cheapest but most relaxing ways to enjoy the cities and the corresponding attractions and popular locations. More information on bicycle rental can be found here.
What to do in Poland
The capital and largest city of the country. You can wander around the alleys of the old town (Stare Miasto) with its colorful houses and take many photos. The old town is relatively "new" as it was almost completely leveled by the bombing during World War II. However, it was rebuilt from scratch based on its original appearance and condition.
You will find dozens of shops in the alleys, either for coffee and food or for shopping and souvenirs. Prices both in Warsaw and in Poland in general are quite low, which will allow you to enjoy your trip there a little more with the appropriate financial comfort! You can also visit the Royal Castle (Zamek Krolowski) in the old town. Behind the old town is the new town (Nowe Miasto), which gives a more modern tone to the town in general with tall buildings, modern architecture,and dozens of shops. Lazienki Park or the Royal Baths is the largest park in Warsaw. It is the must escape point from the urban landscape and there is also the monument dedicated to the great Polish composer Chopin. Depending on what season you visit it, squirrels can also be spotted everywhere!
Also enjoy the nightlife as Poland is one of the largest vodka producers in the world. You will find a great variety of drinks at quite affordable prices. We had found beer in a central store for about 1.5 € only, while a half liter bottle of locally produced vodka cost about 5.5 €. Obviously the prices change depending on the brand. Finally, the eyes of the visitors are obviously caught by the imposing center of culture and science of the city with the big clock at the top.
This building is the tallest in Poland and the 5th in a row in all of Europe with a height of 237 meters. Inside the building are various companies, libraries, cinemas and the Polish Academy of Sciences. You have the opportunity to enter and climb the elevator until the observation desk on the 30th. From there you can enjoy the panoramic view of Warsaw in front of you.
Read our ultimate travel guide for Warsaw here.
Zakopane
A popular mountain town-resort but many travelers are unaware of its existence. It is located in the Tatra Mountains on the southern border of Poland with Slovakia. Suitable mainly for those who love nature trips. One of the popular must-sees in this city is the cable car ride to the mountain Kasprowy, where there are also slopes for winter sports lovers. There is also a cable car for an alternative route to Gubalowka Hill. This route offers panoramic views of Zakopane Town and the mountains.
On the main pedestrian street of the town called Krupówki, you can buy souvenirs made of wood, leather or wool, as well as traditional delicious cheeses from local dairies in the area. As in all of Poland, here you will find recipes with lots of meat, several soups and seafood fried trout. Even from the mountain range national park and specifically in the Strazyska valley you can follow a route of about 40 minutes hiking that ends at the impressive Siklawa waterfalls. Relax, rest, become one with nature and immortalize the moments. More information about this picturesque city can be found here.
Krakow
A medieval city with imposing architecture that has nothing to envy from the other cities of Poland. Apart from the fairytale buildings, this city is known for its connection with the legend of the dragon of Babel. The dragon is said to have lived on Babel Hill and terrorized the inhabitants in medieval times. Today, this legendary dragon from Krakow adorns the entrance of its "nest", which can be visited from April to October.
On the hill of Babel is the homonymous Castle Babel. It is one of the most beautiful and imposing sights of Krakow. Above the castle you can see the famous river Vistula. Inside the castle now operates a museum with exhibits that will transport you to older times. Next door is the Krakow Cathedral, with free entrance to its central part. Apart from myths and castles, what Krakow has to offer does not stop here. It is also famous for its fairytale old town. A walk you cannot miss. It stands well despite the blows it received during World War II.
You can enjoy your food or drink, browse the local market and shop for whatever you want at a reasonable price, or enjoy a city tour with a carriage. The spectacle of the city is really impressive and reminds one of another era. Also a must-see is the Schindler factory, which was made known in the eponymous film of Schindler's List. Finally, everywhere in the city there will be organized tours for the 2 of the top organized excursions in nearby areas: The Wieliczka Salt Mines and Concentration Camps. We will explain the two above in more detail in the following paragraphs.
Wieliczka Salt Mine
This monument has been included in the list of UNESCO World Heritage Sites. It is one of the most famous tourist attractions in Poland. Once you reach the outside space, nothing prepares you for what you are about to see inside! At a depth of 327 meters you will find the existence of an underground city. In the bowels of the earth there is a route of 2km, to wander and see a space that looks like a museum, consisting of statues that are made of salt and represent life in the mine when it was in operation. An underground lake, banquets, a souvenir shop and a restaurant. Usually this tour is closed by everyone during their stay in nearby Krakow. Just be very careful with private packages, because you will find large price variations from many "crooks".
Concentration Camps
A black page in the history of Poland. Some do not forget, some pretend not to remember and many are those who do not even want to visit. It is one of the organized tours, which you do not go for relaxation and entertainment, but to see how far a sick mind can go. The most famous are the Auschwitz and Birkenau camps in the town of Oswiecim near Krakow. The scenes are unchanged despite the passage of time and the reason is to pass the macabre message of Nazism and extermination as realistically as possible.
During your visit there you will see personal items of the people who arrived there for a better future, personal experiences of individuals, reports and historical narratives from third parties. The spectacle is melancholy and sad. A visit to the camps is usually arranged during the travellers' stay in Krakow. We had booked a private bus from Krakow with a guide. During our visit they had shown a short film about the atrocities that took place in the concentration camps. More information about the concentration camps can be found here.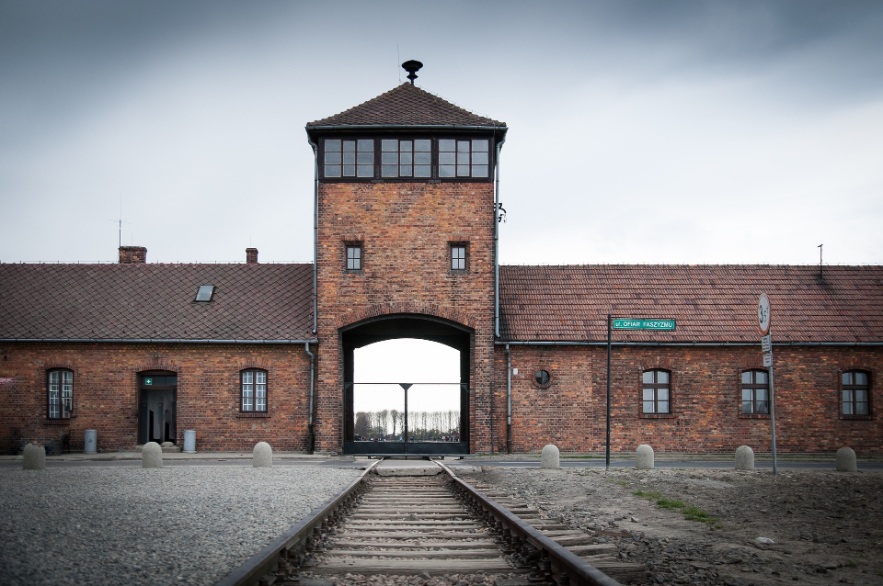 Mazury lake
An area of ​​stunning natural beauty with more than 2,000 lakes, dense forests, organic farms and charming holiday towns. There is no doubt that the best time to visit the area is the summer season. It is the busiest and most expensive time of the year. If you want to avoid the crowds, book your stay in early June or September, when the weather is still good and there are fewer tourists.
It is located in northeastern Poland, about three hours by car from Warsaw. If you combine your trip to Mazury with a visit to Warsaw, the best way to get to Lakeland from and to Warsaw is by train. There are even flights to Olsztyn-Mazury Airport. It is one of the best places in Poland to go out and experience the countryside. You can go from kayaking along the picturesque Krutynia River and cycling in the dense forests of the region, to sailing and fishing in the country's largest lakes.
Poznan
One of the oldest, most picturesque and cheapest countries in Poland. The city has a lively nightlife, as it has many students and many shops for entertainment and food. In the center of the square in the old market of the city you will see the impressive town hall. Every noon at 12 the town hall clock opens and the famous Poznan goats appear, twisting their horns 12 times.
Its attractions include the croissant museum! Rogale ietwietomarcinskie or St. Martin's Croissant, a dessert that is not produced anywhere else in the world. It is filled with cream, poppy seeds, nuts and fruits. You can also take a train ride around Lake Malta in a green and relaxing landscape at a cost of less than € 2 per person. Poznan still has a famous artist, Noriaki, who has filled graffiti in various parts of the city, and his fame has spread as far as London. More information about the city of Poznan can be found here.
Γκντανσκ
It is one of the most important tourist resorts in Poland and is the most important port in the country. The Royal Street (Trakt Królewski) is the main street of the Old Town, which connects it with the river Motlava. On this route you can see the Golden Gate and the fountain of Poseidon in the big market. The docks in the big market used to have a bad reputation in the old days due to the criminals, however today it has become a popular tourist area with shops where you can enjoy your meal or your coffee by the water. The prison tower is especially eye-catching.
It was originally built as part of the city's fortifications in the second half of the 14th century, but the complex was rebuilt between 1593 and 1604 with the smaller of the two buildings becoming a torture chamber and court respectively, while the largest tower became the prison.
Various executions took place there until the middle of the 19th century. It was destroyed during World War II and has now been extensively renovated and houses the Museum of Torture. Also there you will find the church of Panagia, a large Gothic church.
The best time to go is mid-summer, due to the larger festival that is now an institution. The Saint Dominic Bazaar has over 7 centuries of history and is full of antiques, handicrafts, clothes and much more. At the same time there is a program of events with theatrical, concerts and outdoor events that is a pole of attraction for both locals and travelers. More information can be found here.
Packing Tips & When to go
Here are some basic things to keep in mind when traveling to Poland.
4 season clothing: It is the key to clothing during spring and autumn. Poland is a country that has four different seasons, so there is a chance that you will be both hot and cold during your visit there like the example we mention below with Krakow. So it is good to be prepared for both. In winter, of course, gloves, hats and boots are essential.
Shoes: Do not settle for just one pair. In winter in particular there is the possibility of either rain or snow. The possibility of your shoes getting wet is high, so it is good to have 2-3 alternative pairs with you. In general, prefer firm shoes such as boots in order to walk about comfortably without the danger of slipping.
Scarf: A versatile accessory that matches various types of clothing. But beyond that you can use it to cover your shoulders in the Catholic temples of the country that you visit as a sign of respect
Power bank: The essential gadget on every trip so that you do not run out of battery either on your mobile phone or on your camera.
The best time to visit Poland is in spring and summer in terms of favourable temperatures. Summer is relatively warm and the weather will be your ally on your excursions in the country. The parks will be in bloom and you will be able to organize your day undisturbed. The only disadvantage is the higher prices in hotels and tickets. Respectively, the weather in winter is quite cold, with rain and in some cases even snowfall. Specifically during our stay in Krakow (winter season) we achieved in one day sun, rain, snow and sunshine again! The advantage of this period is that you will find better deals on travel packages.
Useful Words
As we mentioned at the beginning of the article, Polish is the official language of the country. This does not mean that you will encounter any communication problem in the tourist spots of the country. Even those who do not know English very well, will try in every way to help you or to communicate with you even with meanings! At least these experiences we experienced during our stay in Warsaw and Krakow. However, if you want to have a basic knowledge of their own words, here are some of them:
| | | | |
| --- | --- | --- | --- |
| Goodmorning | Dzien Dobry | Please | Nie ma za co |
| Goodnight | Dobranoc | Hi | Cześć |
| Yes | Tak | How are you? | Jak sie masz |
| No | Nie | My name is | Nazywam sie … |
| Thankyou | Dziekuje | Goodbye | Do widzenia |
Useful Sites & Apps
In the last few years we have been travelling we have singled out some applications, which we use before every trip or during it. We have chosen them over others for their validity, ease of use and variety in the options they have to offer. We describe below in detail what these are together with their characteristics.
Booking.com is a popular online booking platform for accommodations worldwide. With a vast selection of hotels, apartments, villas, and more, Booking.com offers travellers the convenience of finding and booking their ideal stay in just a few clicks. The site's user-friendly interface and extensive filtering options make it easy to narrow down search results based on specific preferences such as price, location, amenities, and more. As a result, Booking.com has become a go-to destination for travellers looking for hassle-free booking options. With competitive pricing and a loyalty program that rewards repeat bookings, Booking.com is a top choice for travellers seeking great deals and a seamless booking experience. Available rooms you can find here.
One of the best, most trustworthy, and most convenient 5-star airport taxi companies for your airport transfer based on user reviews across various platforms such as Google, Tripadvisor, and Trustpilot. Welcome Pickups offers a great experience and safety to its travelers. Local English-speaking drivers, flat, pre-paid fee, flight monitoring for delays, 24/7 Customer support + free cancellation. Check your options here.
Air Bnb
With over one million properties all around the world, and always increasing, ideal for a low budget stay even in expensive areas. Furthermore, because you stay in people's villas, houses or flats you are made to feel more at home by the host of each destination and the homely surroundings.
Hotels.com is a leading provider of hotel accommodation worldwide, offering booking services through its own network of localised websites. Once you reach 10 nights, you'll have a free night which you can apply at checkout. You can earn multiple free nights by continuing to book with Hotels.com, though. The platform gives travellers one of the widest selections of accommodation on the net, including both independent and major chain hotels as well as self-catering in over hundreds of thousands properties worldwide. The company offers a one-stop shopping source for hotel pricing, amenities and availability. Find the best deals here.
Tripadvisor helps hundreds of millions of people each month become better travellers, from planning to booking to taking a trip. Travellers across the globe use the Tripadvisor site and app to discover where to stay, what to do and where to eat based on guidance from those who have been there before. With more than 1 billion reviews and opinions of nearly 8 million businesses, travellers turn to Tripadvisor to find deals on accommodations, book experiences, reserve tables at delicious restaurants and discover great places nearby. Find available offers and book your accommodation here.
Omio is a leading travel platform that helps you easily plan and book your trips. With a comprehensive network of trains, buses, and flights across Europe and beyond, Omio allows you to compare and choose the best travel options for your needs. Whether you're looking for a quick day trip or an extended vacation, Omio's user-friendly interface and competitive prices make it easy to create unforgettable travel experiences. Check available routes here.
Skyscanner is a leading global travel search engine, helping millions of travellers find the best flights, hotels and car rentals. With a user-friendly interface and powerful search technology, Skyscanner makes it easy to compare prices and options across hundreds of travel providers, giving you the best deals for your trip. From budget to luxury, domestic to international, Skyscanner has everything you need to plan your next adventure. So whether you're travelling for business or leisure, start your journey with Skyscanner and discover the world like never before. Available flights and prices can be found here.
GetYourGuide is an online marketplace for booking travel activities and experiences. With a wide variety of tours, activities, and attractions available in destinations around the world, GetYourGuide makes it easy to find and book unique experiences for your next trip. From city sightseeing tours and food and wine tastings to outdoor adventures and cultural experiences, GetYourGuide has something for every type of traveller. With a user-friendly website and mobile app, and a commitment to customer satisfaction, GetYourGuide is a top choice for travellers seeking memorable and authentic experiences. Book your activities here.
DiscoverCars.com offers a hassle-free car rental booking experience, with a wide range of rental car options available worldwide. Whether you're travelling for business or pleasure, DiscoverCars.com offers competitive rates, 24/7 customer support, and flexible cancellation policies. With no hidden fees and a user-friendly interface, booking your rental car has never been easier. Choose from a variety of car rental options, including economy, luxury, and family-friendly vehicles, and enjoy the freedom of the open road on your next adventure. Book with DiscoverCars.com today and start exploring the world on your own terms!
Hotel Tonight
Here you will find last minute discounts on vacancies from hotels. This is an amazingly simple app and it doesn't take long to book a room.You may search in each town for sights and maps. Furthermore, you can check the reviews and photos of other travellers in order to be sure about the reliability of each hotel. It also has a 24/7 customer service. If you're stuck somewhere and you need a room desperately, this is the perfect app for you.
City Maps 2Go
Maps for travelling, hiking, mountain cycling and many other activities. A necessary app for every adventure, activity or touring abroad. You may only download one map per country, whereas it was possible to download two in the past. For an additional map you need to pay. Alternatively, as soon as you have looked at the information on a map you can delete it and then download a new one.
You can mark all the places of interest on the map you have downloaded. Whether they are sights, shops, or restaurants you can use the directions guide to get there. The great advantage to this app is that you don't need to have internet connection although it might get stuck a few times. Nevertheless, it is quite a reliable and useful app.
EXTRA TIP
Once you have marked all the places you want to visit prior to your trip, you can also book your accommodation accordingly. This way you can be sure you'll be staying somewhere close to all places of interest.
iVisa.com is an online platform that helps travellers obtain electronic visas, eVisas, and other travel documents quickly and easily. With an extensive database of travel requirements for over 200 countries and a user-friendly application process, iVisa.com makes it simple for travellers to apply for and obtain the necessary documents for their trips. Whether you're planning a vacation, business trip, or other travel experience, iVisa.com can help you navigate the complexities of travel documentation with ease. More information for the necessary travel documents, depending on your nationality and destination can be found here.