One of the most underrated countries in Europe. Ukraine is one of the most magical countries, with countless treasures, history, amazing architecture, UNESCO World Heritage Sites and so many other attractions. The main feature of this country is its people and how they keep their traditions. Below in our article you will find all the necessary information before your first visit Ukraine.
General Information
Information for the necessary travel documents, depending on your nationality and destination can be found here.
The voltage in Ukraine is 220V and the frequency is 50Hz. C / F socket types.
The currency of Ukraine is the Ukrainian Hryvnia. To always be updated about currency exchange changes visit: XE Currency Converter.
Ukraine is one of the largest countries in Europe, second in size after Russia.
A Ukrainian specialty is horilka (the local name of vodka) with pepper. Other types of vodka that are popular are with honey and wheat.
In Ukraine, mainly Ukrainian and Russian are spoken. On the west side of the country (near Lviv) the majority of the inhabitants speak Ukrainian, while on the east side of the country (near Kharkov) most of the inhabitants speak Russian.
Budget
Those who plan to visit Ukraine should know that it is a very economical country and that it will be difficult to waste a lot of money. However, the accommodation options are plenty and can cover all available budgets.
Low budget: For those who want a low budget stay and do not care about the space of the room, they can choose one of the hostels. Rooms can start at 140 UAH (about € 5) and go up to € 430 (around € 13). These hostels have mixed dormitories, with a shared bathroom, shared kitchen, free Wi-Fi and are not far from the main points of interest in the big cities.
Low cost hostels in Ukraine can be found here.
Mid budget: Mid-range hotels cost from 580 UAH (approximately € 18) to 2400 UAH (approximately € 72). These hotels provide cable TV in your room, private bathroom, free Wi-Fi and breakfast, hot tub, sauna, restaurant and hotel bar as well as an airport shuttle service. Their location is in the city centers and close to points of interest.
High budget: In the third part of accommodation are those who want special attention and luxury during their stay. Hotels of this choice are 4-5 stars and cost from 2520 UAH (75 €) to 7560 UAH (225 €). Here you will enjoy top hospitality and amenities, such as beautifully decorated rooms and suites, with kitchenettes, indoor and outdoor pools and on-site restaurants serving fine cuisine and game rooms for children.
The above prices have come from searches for alternative dates and with a criterion of 2 people per room. Emphasis has been placed on the summer months, which are high season for Ukraine. In winter the prices fluctuate at lower levels.
Best hotel deals can be found here.
Traditional Food
Sometimes it is difficult to determine which dishes are Ukrainian and which are Russian, as you can find them in both countries. In any case, Ukrainian cuisine is rich and its portions are large. In the big cities you will find shops of well-known chains, but also cuisines of foreign countries, which will cover your every choice. Below we will mention some classic traditional foods.
Borsch: The national dish they are proud of is Borsch. It is a soup of cabbage, beets, potatoes, tomatoes, and meat, a mixture that creates a rich and unique taste. You will find the traditional borsch in restaurants all over the country and it is served mainly hot and cold.
Salo: This unusual snack, salo, is considered one of the symbols of hospitality in Ukraine. They are salty slices of pork fat and are served with bread and vodka. It is usually used as an appetizer, but many people eat it as a main course.
Varenyky: An economical dish served everywhere, from restaurants to cafes, and it is a safe choice when you do not know what to order. Varenyky is stuffed pasta, usually made with savory fillings such as meat, potatoes, mushrooms and cabbage.
Cottage cheese or cherries are usually the filling for sweet varenyky. Cherry varenyky is considered the classic dessert of Ukrainian cuisine and is served with sour cream and sugar on top.
More traditional food can be found here.
Syrniki: A delicacy served for breakfast or brunch and you can try them in most cafes and restaurants in the country. Syrniki are small, thick pancakes stuffed with cottage cheese, but may also contain apple and other ingredients. The syrniki are served with jam and sour cream.
Chicken Kyiv: One of the most famous dishes of Ukrainian cuisine, but also worldwide. It is a combination of chicken fillet coated with a mixture of grated cheese, parsley, dill, mushrooms and pepper, in a beaten egg yolk, which is fried. It is the first dish that food lovers order when they visit Ukraine.
Deruny: A popular dish in Ukrainian restaurants across the country. This dish is preferred as breakfast or dinner and is basically potato pancakes with various variations, such as meat, onions, mushrooms and spices. Whether they are the classic plain potato pancakes, or with their variations, they are served with sour cream.
Transportation
Plane: The main airport of the Ukraine is Kiev Boryspil Airport, located 40 km from the city center of Kiev. Odessa also has its own international airport and is 7 miles from the city center, although it serves mainly European flights. Ukraine International Airlines is the main carrier for domestic flights, which are relatively affordable, with most costing only 2,800 UAH (approximately € 85).
You can check out the best flights to Ukraine here.
Train: Trains in Ukraine connect most cities and towns in the country. Many of the trains have an old, Soviet feel to them, but they are safe, reliable and cheap. Most train staff do not speak English, so buy your ticket online or ask your hostel / hotel to write down what you need. To get the best prices, book at least a week or two in advance, especially during the summer months when they are sold out very quickly.
There are many night routes and you can spend the night on one of the trains while travelling to your destination. First class sofas, private and shared, bedrooms and regular beds are available.
Itineraries and prices can be found here.
Metro: Kiev has its own metro and is a fast and economical way to get around the city. Prices start from 2 UAH and trains pass every 2-10 minutes. The metro operates daily from 6 a.m. until midnight.
Buses: Buses are a great way to travel and tickets cost around 8 UAH. Tickets can be purchased upon boarding or at city kiosks.
Ukraine has small, old buses that are usually full, but also larger, more modern buses. Flixbus is your best choice, as their buses are clean, reliable and cheap.
Cable car: Kiev has a cable car, which is fast, and goes from the north center to the south center of the city. This is a picturesque and unique way of travelling and costs only 3 UAH.
Taxi: In large cities like Kiev, taxis charge a minimum of 45 UAH and increase to 11 UAH per mile, but differ slightly for each taxi company.
Car rental: To rent a car, you must be at least 21-25 years old and have an international driver's license. Car rental in the Ukraine can cost 840 UAH per day. The roads are in bad condition and the drivers are aggressive, so drive carefully. More offers for rentals can be seen here.
Uber: Uber is available throughout Ukraine and we recommend it as the safest way to travel. You already know how much your route will cost and you feel more secure as you watch your route.
What to do in Ukraine
Agia Sophia Cathedral
Agia Sophia is located in the city of Kiev and is considered one of the most precious diamonds of architecture in the world. It contains a complex of museums and monuments of the ancient Russian empire of Kiev, which used the temple as a burial place for their rulers.
Built in the 11th century in Kiev, since 1990 it is a protected UNESCO World Heritage Site. It has an ornate baroque exterior with 13 gold and green domes. Inside the cathedral you will see beautiful frescoes and preserved mosaics made by Byzantine artists. Outside the temple there are several gardens and the large golden bell tower stands out, where you can climb and enjoy the panoramic view of Kiev.
Chernobyl
As is well known, in 1989 the most serious nuclear accident in history occurred: the explosion of the Chernobyl plant in the city of Pripyat (about 100 km from Kiev). The explosion had serious effects on the environment and health due to exposure to radioactivity.
Today, it is open to the public – but you must visit via an authorized travel company. Travel agents can pick up guests from their hotel and drop them off after the tour. During the transfer, an information video about the disaster is displayed. The narration and the real shots of the video prepare the guests for the tour that follows. The tour takes visitors to many buildings and some look like a movie backdrop.
If you are worried about radiation, tests have shown that travellers are more exposed to radioactivity on a transatlantic flight than during a visit to Chernobyl. We suggest that you do not miss the opportunity to live this incredibly stirring experience, which will remain engraved in your mind for a long time.
Arcadia Beach
Arcadia beach is the most famous beach in Ukraine and is located in Odessa. It is the most popular place during the summer months, as it is the main summer getaway place in the country. Here you will find many bars, clubs, resorts and cafes. It consists of the main large beach, which has water slides and plenty of space for swimming and relaxation, and the small beaches around. We suggest you make sure you get to the beach early and catch a good spot as it fills up in the summer.
Find available bus and train routes here for Ukraine here.
Tunnel of Love
Outside the city of Klevan, the Love Tunnel is one of the most popular attractions in Ukraine. This much-photographed place is 3 km of railroad tracks, with a canopy of trees above that create the illusion of an endless tunnel. Legend has it that the wish which couples make here, if they are truly in love, will come true.
Hiking in the Carpathian Mountains
Known as the green pearl of the Ukraine. The Carpathian Mountains are a mix of 1500 km of beautiful meadows, peaks, dense forests, picturesque villages, rugged rivers and mountain lakes. The Carpathian Mountains are an ideal place to enjoy cycling, horse riding, hiking, rafting or just the fresh mountain air. For an all-day hike, climb to the top of Hoverla and enjoy the stunning views at 2,061 meters. Its flora and fauna are identical in nature with the Alps. Also, Lake Synevyr is the mysterious attraction of the Carpathian National Park, and creates a landscape that will take your breath away.
Kievo
Kiev, the capital and largest city of Ukraine, is a unique combination of Soviet and European culture and architecture. This green city is full of beautiful trees and parks and the memories of World War II are well preserved in the war memorial at the foot of the Rodina-Matt and the 102-meter-tall statue of the Motherland.
In addition to beautiful churches and cathedrals such as St. Andrew's Cathedral, Agia Sophia and Kiev Pechersk Lavra (Cave Monastery), Kiev is home to the world's longest train station – the Arsenalna. The city also has the Kiev Opera House and if you are in the city, be sure to take a stroll through the streets of the beautiful Maidan (city center).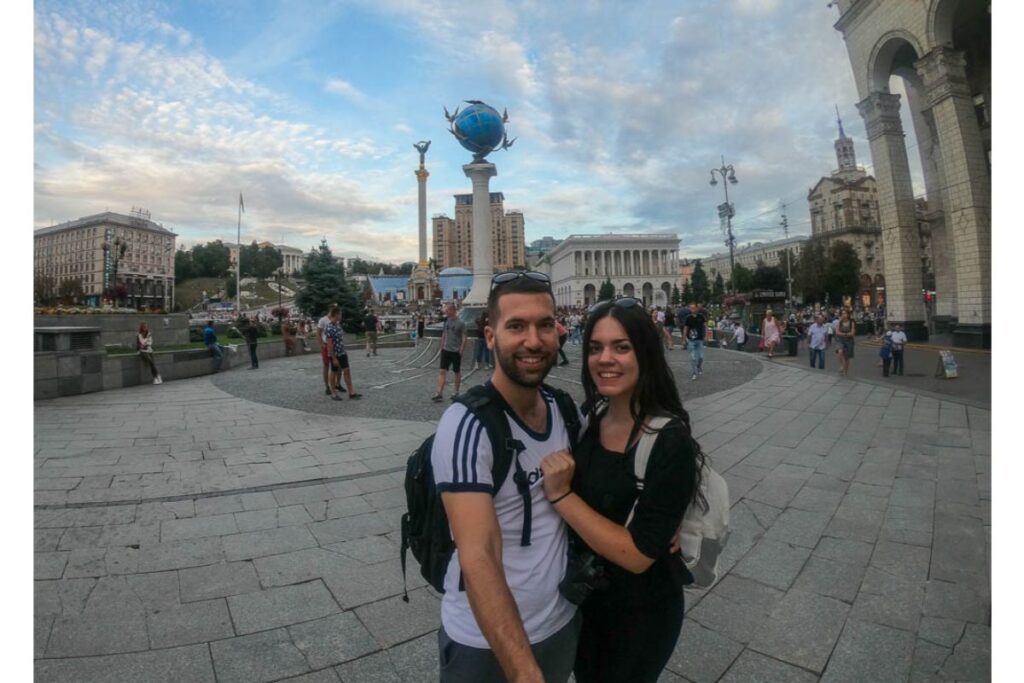 Catacombs of Odessa
It is the largest catacomb system in the world, with over over 2,500 kilometers of catacombs below the city! They were created in the 17th century and expanded when the city mined limestone in the early 19th century (limestone was used to build the city). The catacombs were used by Soviet guerrillas during World War II after the Germans forced them to retreat.
Today, some of the catacombs have been rebuilt and turned into a museum. Visitors are allowed to see the exact conditions in which the guerrillas of the time lived. It is dangerous to explore them yourself (several people have been lost and have left their bones there), but you can book your tour with an experienced guide for 250 UAH.
Lviv
Lviv is the cultural capital of Ukraine. It is located 540 km west of Kiev, has an atmosphere of Central Europe and is full of history and incredible architecture. Be sure to wander around the Old Town, visit the Lviv History Museum and enjoy the view from the High Castle. For a look at the city's past, visit the Museum of Folk Architecture and Rural Life (it is an open-air museum with all kinds of traditional wooden buildings).
Lychakiv Cemetery houses more than 400,000 graves, each popular and unique in its own way. Its historic center has also been declared a UNESCO World Heritage Site.
Chernivsti University
Founded in 1875, this university is the most fascinating piece of architecture in Chernivtsi, a city in western Ukraine. It is made of beautiful red bricks and is decorated with thousands of coloured tiles. The design of the building was influenced by Byzantine-Hanseatic-Moorish style. You can book your guided tours of the university for 80 UAH.
Kamianets-Podilskyi Castle
Kamenets Podolsky Castle is located in Kamianets-Podilskyi, a short walk from the Old Town and is an impressive attraction. This fortress, which already existed before the 14th century, is the ideal place to take photos and a tour, as it resembles a fairytale castle.
Take a tour inside and admire the areas. Although this castle is centuries old, it has modern amenities such as baths and a café to enjoy your visit. The castle is also especially beautiful at night when it is lit.
After exploring the castle, make a stop at the old town and dine in one of the many restaurants there.
Fields of sunflowers
Sunflower oil is one of the largest exports of Ukraine, so you will notice huge fields of sunflowers all over the country. With shades ranging from yellow to golden orange, these flowers are the size of dishes and beautify the country. It is also important to know that the flowering period of the flowers is in July and the beginning of August. Also important for those who want to enter the fields and photograph them is to stay on the edge of the fields, as there is a chance of getting lost.
Packing Tips & When to go
Warm clothes: Depending on when you plan your trip to Ukraine, you will need the appropriate warm clothes. In winter the temperatures are quite low, sometimes below 0 ° C. Isothermal, warm sweaters, gloves, hats and scarves are necessary to be able to withstand these low temperatures. But even in summer, the temperatures can be high during the day and at night they can drop quite low.
Umbrella / Waterproof: Especially in autumn and spring, it rains a lot in Ukraine. With the possibility of rain always imminent, we suggest you bring an umbrella or raincoat with you, so that the rain does not spoil your plans.
Comfortable shoes: Good and stable shoes are essential for your tours in the cities of Ukraine. Especially Kiev is a city that has many slopes, and has many places worth walking around. So make sure you have your comfortable shoes on to enjoy your walks.
Hiking equipment: For hiking enthusiasts who have chosen the Carpathian Mountains, we suggest that you have your own equipment, to avoid the charge in renting it.
The most popular time to visit Ukraine is summer. From June to August the days are sunny and the temperature ranges from 18-24 ° C. This period is also the most touristic. However, the country receives only about 14 million tourists each year, so do not expect to see huge crowds.
If you want to avoid the peak tourist season, you can visit Ukraine in May or September / October. The weather is not so hot these months, but you will see flowers blooming in the Carpathian mountains or the leaves changing colour in autumn. At night the temperature drops, but during the day it is ideal for sightseeing or hiking.
Useful Words
| | |
| --- | --- |
| Hello | Pryvit |
| Good morning | dobryy ranku |
| Good evening | Dobre vecher |
| Thank you | Diakuju |
| Please | Nema za sho |
| Yes | tak |
| No | ni |
Useful Sites & Apps
In the last few years we have been travelling we have singled out some applications, which we use before every trip or during it. We have chosen them over others for their validity, ease of use and variety in the options they have to offer. We describe below in detail what these are together with their characteristics.
Booking.com is a popular online booking platform for accommodations worldwide. With a vast selection of hotels, apartments, villas, and more, Booking.com offers travellers the convenience of finding and booking their ideal stay in just a few clicks. The site's user-friendly interface and extensive filtering options make it easy to narrow down search results based on specific preferences such as price, location, amenities, and more. As a result, Booking.com has become a go-to destination for travellers looking for hassle-free booking options. With competitive pricing and a loyalty program that rewards repeat bookings, Booking.com is a top choice for travellers seeking great deals and a seamless booking experience. Available rooms you can find here.
Air Bnb
With over one million properties all around the world, and always increasing, ideal for a low budget stay even in expensive areas. Furthermore, because you stay in people's villas, houses or flats you are made to feel more at home by the host of each destination and the homely surroundings.
Hotels.com is a leading provider of hotel accommodation worldwide, offering booking services through its own network of localised websites. Once you reach 10 nights, you'll have a free night which you can apply at checkout. You can earn multiple free nights by continuing to book with Hotels.com, though. The platform gives travellers one of the widest selections of accommodation on the net, including both independent and major chain hotels as well as self-catering in over hundreds of thousands properties worldwide. The company offers a one-stop shopping source for hotel pricing, amenities and availability. Find the best deals here.
Tripadvisor helps hundreds of millions of people each month become better travellers, from planning to booking to taking a trip. Travellers across the globe use the Tripadvisor site and app to discover where to stay, what to do and where to eat based on guidance from those who have been there before. With more than 1 billion reviews and opinions of nearly 8 million businesses, travellers turn to Tripadvisor to find deals on accommodations, book experiences, reserve tables at delicious restaurants and discover great places nearby. Find available offers and book your accommodation here.
Omio is a leading travel platform that helps you easily plan and book your trips. With a comprehensive network of trains, buses, and flights across Europe and beyond, Omio allows you to compare and choose the best travel options for your needs. Whether you're looking for a quick day trip or an extended vacation, Omio's user-friendly interface and competitive prices make it easy to create unforgettable travel experiences. Check available routes here.
Skyscanner is a leading global travel search engine, helping millions of travellers find the best flights, hotels and car rentals. With a user-friendly interface and powerful search technology, Skyscanner makes it easy to compare prices and options across hundreds of travel providers, giving you the best deals for your trip. From budget to luxury, domestic to international, Skyscanner has everything you need to plan your next adventure. So whether you're travelling for business or leisure, start your journey with Skyscanner and discover the world like never before. Available flights and prices can be found here.
GetYourGuide is an online marketplace for booking travel activities and experiences. With a wide variety of tours, activities, and attractions available in destinations around the world, GetYourGuide makes it easy to find and book unique experiences for your next trip. From city sightseeing tours and food and wine tastings to outdoor adventures and cultural experiences, GetYourGuide has something for every type of traveller. With a user-friendly website and mobile app, and a commitment to customer satisfaction, GetYourGuide is a top choice for travellers seeking memorable and authentic experiences. Book your activities here.
Discover Cars
DiscoverCars.com offers a hassle-free car rental booking experience, with a wide range of rental car options available worldwide. Whether you're travelling for business or pleasure, DiscoverCars.com offers competitive rates, 24/7 customer support, and flexible cancellation policies. With no hidden fees and a user-friendly interface, booking your rental car has never been easier. Choose from a variety of car rental options, including economy, luxury, and family-friendly vehicles, and enjoy the freedom of the open road on your next adventure. Book with DiscoverCars.com today and start exploring the world on your own terms!
Hotel Tonight
Here you will find last minute discounts on vacancies from hotels. This is an amazingly simple app and it doesn't take long to book a room.You may search in each town for sights and maps. Furthermore, you can check the reviews and photos of other travellers in order to be sure about the reliability of each hotel. It also has a 24/7 customer service. If you're stuck somewhere and you need a room desperately, this is the perfect app for you.
City Maps 2Go
Maps for travelling, hiking, mountain cycling and many other activities. A necessary app for every adventure, activity or touring abroad. You may only download one map per country, whereas it was possible to download two in the past. For an additional map you need to pay. Alternatively, as soon as you have looked at the information on a map you can delete it and then download a new one.
You can mark all the places of interest on the map you have downloaded. Whether they are sights, shops, or restaurants you can use the directions guide to get there. The great advantage to this app is that you don't need to have internet connection although it might get stuck a few times. Nevertheless, it is quite a reliable and useful app.
EXTRA TIP
Once you have marked all the places you want to visit prior to your trip, you can also book your accommodation accordingly. This way you can be sure you'll be staying somewhere close to all places of interest.
iVisa.com is an online platform that helps travellers obtain electronic visas, eVisas, and other travel documents quickly and easily. With an extensive database of travel requirements for over 200 countries and a user-friendly application process, iVisa.com makes it simple for travellers to apply for and obtain the necessary documents for their trips. Whether you're planning a vacation, business trip, or other travel experience, iVisa.com can help you navigate the complexities of travel documentation with ease. More information for the necessary travel documents, depending on your nationality and destination can be found here.